Dutch Courage...
Holland 1-1 England

England gave a much improved performance and gained a creditable draw against Holland in Amsterdam. Wayne Rooney's goal looked like it would settle things but bad defending saw the impressive Van der Vaart equalise with 4 minutes to go.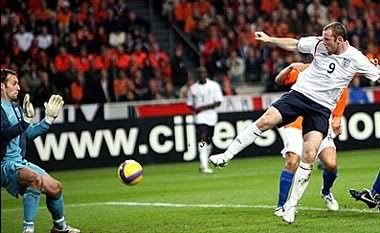 England: Robinson, Richards, Ferdinand, Terry, A Cole, Carrick, Lampard, Gerrard, J Cole(Richardson), Rooney, Johnson(Wright-Phillips)

Lofty's Man of the Match - Micah Richards

Okay, so a short report this maybe, but I just can't get over excited about England friendlies. Nevertheless, it was much improved from the shambles in Croatia and it was pleasing to see Micah Richards have such a solid debut. But what frustrates me time and time again with McClaren, is that he watches these players play for their Clubs week in, week out. He knows their strengths and where they play, so why does he play them out of position?? Everton's Andy Johnson a classic example tonight! At least we may now see the return to the side for David Beckham... in goal!?
©LOFTY