Keeping Up With The Jones's...
Cardiff 0-1 QPR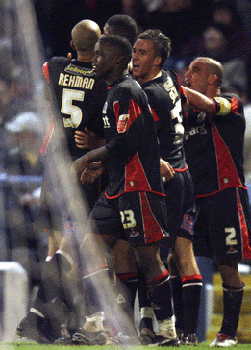 Mine and no doubt most of the gangs hangovers this morning, are probably a good indication of what a great result this was! Several factors like Sky moving the game to a Friday night and work commmitments, meant it was always going to be tough to get to this one. The traffic around Cardiff city centre is bad enough at the best of times, let alone in a Friday rush hour and also, a sell out rugby match going on at the Millenium stadium at the same time - who plans these things? At this stage I would like to say a massive well done to the Rangers faithful that made the trip across the border!

So the gang decended on The Brook House in Hayes to watch on the big screen. Despite the fact that the Bluebirds were sitting on the top of the league, scoring lots of goals and unbeaten at home, I was extremely confident. My confidence was assured as Rangers simply dominated the first half with Smith, Cook and Blackstock all having great chances. The only disappointment was Gareth Ainsworth going off injured on 14 minutes. We were also now in unfamiliar territory - a half time score of 0-0 in a QPR game!

Onto the second half and as you would expect, Cardiff started to come back into the game and the gang debated whether they would take a draw if offered it there and then. McNaughton rattled the Rangers crossbar, Parry had a goal ruled out for offside and Darren Purse had a penalty appeal turned down after tangling with Rehman.

The clock was counting down on what would be a great away point for Rangers, when on 88 minutes, Nicky Ward crossed from the right for substitute Ray Jones to slide in and stab the ball home and the little corner of the Brook House went absolutely beserk!!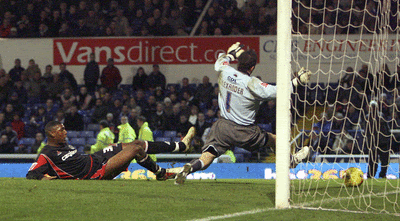 QPR: Royce, Bignot, Rehman, Ainsworth (Ward 14), Cook, Bailey, Stewart, Nygaard, Blackstock (R Jones 65), Smith, Mancienne. Subs: Milanese, P Jones, Baidoo.

Lofty's Man of the Match - QPR!! Sky gave it to Stefan Bailey, but Rangers to a man were all fantastic!!

So, it wasn't the 'goal fest' we have become used too. Suprising really when you think that this was the two top goalscoring teams in the Championship? But you just can't take anything away from this result and performance. Rangers went to the League leaders, took the game to them and got a deserved 3 points! So much so, that non QPR supporting friends were texting 'well done' messages! A team that was rock bottom not so long ago are now just 2 points away from the play off positions.

Ironic really, that Rangers went to Wales and won, the winner scored by someone with the name of 'JONES'!

Come on You R's!!!
©LOFTY