F.A. Cup Third Round...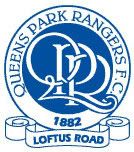 versus

It's that time again, and at 3.10pm today, it was the FA Cup Third Round draw and as you can see, Rangers have been drawn at home to Luton Town.

With all due respect to Luton, I have to admit I am a tad disappointed. It seemed an age before Ricky Hatton drew us out of the hat and I was cringing at the thought of a long trip away to Bury or something. What I really wanted was a really big team away and I was keeping my fingers tightly crossed for Arsenal and a trip to the Emirates Stadium.

But, it was not to be and Luton have a chance to avenge their 3-2 home defeat to us last month. Despite our poor home form, this is also a good chance to progress further and you never know, a Cup run??
©LOFTY