Three Points for Christmas...

QPR 1-0 Barnsley

Writing these reports with a slight hangover seems very much the norm these days. More or less straight after the game, the gang descended on the very welcoming Swan pub in Harefield for another great gig from Dog Chewed The Handle. A great night was had by all - thanks also to the landlord for helping us with the cabs home too!

Anyway, although it was easily forgettable, we had also been to a game beforehand...

Rangers kicked off their tough Christmas programme with a much needed and vital win over Barnsley. After 5 straight defeats, I dont think many Rangers fans cared too much about how the points came today? Well maybe with the exception of Alan who had travelled back from Los Angeles - welcome home and good to see you mate!
Sadly, on a day where the performance didn't matter, we didn't really get one. Martin Rowlands gave the R's the lead on 15 minutes in a half which on chance for chance, Rangers dominated. Rowlands cut inside on the right and although his shot was weaker than hoped, it squirmed under Colgan and into the net.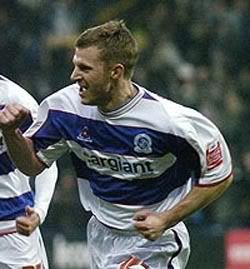 The game continued to be very cagey for both sides and although Barnsley came right back into the game, Rangers defended for their lives. At the other end, chances fell to Cook and Blackstock but the elusive second goal never materialised. But the relief around the stadium was fully evident when the final whistle blew.

QPR: Royce, Bignot, Milanese (Rehman 67), Rowlands, Lomas, Cook, Stewart, Jones (Furlong 79), Blackstock, Smith (Bircham 70), Mancienne. Subs: Cole, Baidoo.

Lofty's Man of the Match - yet again, Michael Mancienne who it now looks like we will be getting until the end of the season. Great news indeed! Special mention must also go to Marcus Bignot and Dexter Blackstock who were also outstanding today.

With tough away games against Birmingham and Norwich coming up, this was a massive win for Rangers and as I mentioned before, I don't think any Rangers fan would care too much about how we got this win today. Hopefully, this will give the team some much needed confidence which will certainly be needed as we visit the League Leaders on Boxing Day. And we all know what happened the last time we visited the League Leaders... well, here's hoping.

Happy Christmas to Everyone!!
©LOFTY