Thrown To The Wolves...
QPR 0-1 Wolves

This one was always going to be a struggle for me personally after attending my work's Christmas do the night before. But a strangely 'muted' Loftus Road made it seem like plenty more parties had taken place the previous night. Sadly, it looked as though the team had too...

Despite 4 defeats on the trot, there have also been many positives to fall back on these pages. But I must admit to finding it almost impossible to find any after this game! Rangers had the better of a dull first half, but after Kightly gave Wolves the lead with their first real attack on 48 minutes, there was no going back. In fact, the game now belonged to Wolves who had several more chances to put the game to bed and I really hate to say this, but I was almost willing the second goal to go in so I could make an early departure - apologies, but I am just being honest.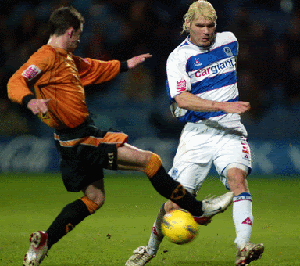 In fact, myself, Corp and PK were discussing the man of the match long before the final whistle in which PK nomimated Shabazz Baidoo as a contender - the fact that Baidoo was a non playing sub, just about sums things up.

QPR: Royce, Milanese, Rehman, Mancienne, Bignot, Rowlands, Smith, Gallen, Bircham (Furlong 65), Blackstock, Jones. Subs: Cole, Ward, Baidoo, Bailey.

Lofty's Man of the Match - Mauro Milanese

Five straight defeats and we are now in a dogfight. It is amazing really that the teams below us are also not picking up many points. But next weeks home game with Barnsley is massive!

This is the last game before Christmas and I am asking Rangers for 3 points as a present. I am really hoping I won't be disappointed because let's face it, we have given plenty of other teams 3 point presents just recently...
©LOFTY