Boxing Day Blues...
Birmingham 2-1 QPR

I hope everyone enjoyed their Christmas and had a great day?

The Boxing Day fixture is always one that I have looked forward to in the past. But over the past few seasons, those lovely people that compile the fixtures list have taken us away from home - two years ago, as far as Plymouth! This year, we had to travel to promotion favourites and very in form, Birmingham City.

Despite the relatively short and easy journey up the M40, it was somewhat suprising that only 2 of the gang(myself and PK) made the trip - although SB also appeared in the away fans concourse. It was also suprising that QPR had also drawn a full house for this festive fixture - okay, well I suppose it may have been something to do with the 100 year Anniversary of St Andrews!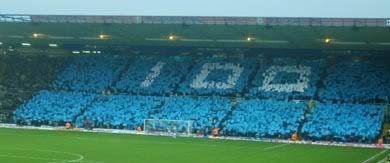 With the current form of both sides and the Birmingham celebrations, the odds were very much stacked against the R's today. But we made a good fight of it and were much the better side when Birmingham took the lead on 21 minutes through Matthew Upson. As the home fans were expecting the floodgates to open, it was Rangers that stole the show with a fantastic goal from Lee Cook. On the edge of the City box, he cut inside and curled a beauty into the top corner. A fine goal and I must say, a fine celebration too!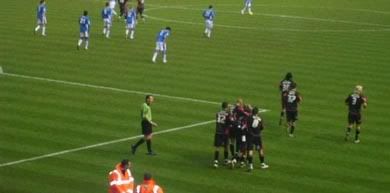 Rangers dealt with everything the leaders threw at them after that, but the game changed when Bircham was taken off on 59 minutes. Bailey replaced him and the midfield never quite got to terms with things. Another sustitute, Cameron Jerome put the Blues ahead just minutes later - tapping home a cross from the outstanding Gary McSheffrey.

If you could measure the level of the R's performance today, it was the sight of the Birmingham fans going absolutely mad with celebration when the second goal went in - showing just how much Rangers had rattled the League Leaders.

QPR: Royce, Bignot, Milanese (Rowlands 75), Rehman, Stewart, Mancienne, Cook, Smith, Bircham (Bailey 59), Furlong, Blackstock (Jones 81) Subs: Cole, Ward

Lofty's Man of the Match - outstanding performances again from Mancienne and Lee Cook. However, after seeing the difference in the side as a whole after his departure, Marc Bircham was the star man for me today.

Okay, so it was another defeat and maybe, not that unexpected from many R's fans. But there were so many positives to be taken from today's performance and if we continue to play with this sort of heart and passion, things will turn around for us pretty soon. Our last game of 2006 is away at Norwich and this is definitely a game of which we can get a good result from! Hopefully, a better turn out from the gang too...

Come on You R'ssssssssss!!
©LOFTY