Happy New Year!!
QPR 1-0 Colchester

All I can say after this great result is - 'its a funny old game' as Rangers entered the new year in style with a great win over high flying Colchester United.

I don't think even the most optimistic of Rangers fans, especially those who were present at Carrow Road two days ago, could have predicted this outcome. There was also little enthusiasm from a subdued, hungover/ill/tired gang at the pub before the game.

Not only did Rangers win, but it was a decent performance too and we were a mere shadow of the side that practically laid down and died against Norwich and the final scoreline perhaps flattered the visitors in the end. The goal came courtesy of contract rebel, Ray Jones on 36 minutes - a towering header from the outstanding Lee Cook's cross. Rangers went on too create some more great chances as Ward hit the post and Blackstock, Gallen, Jones and Furlong all went close.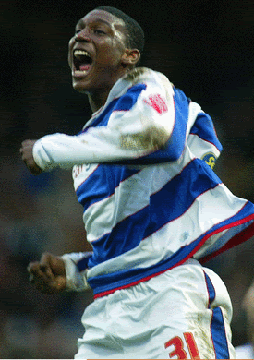 Colchester did at times look a decent side and played some good football along the way. But all in all, they were second best to a much improved Rangers side. With not adding to the one goal, it became a very nervy finish but Rangers held on for an important and much needed, three points.

QPR: Royce, Bignot, Ward (Baidoo 59), Gallen, Lomas, Cook, Kanyuka, Stewart, Jones (Furlong 76), Blackstock, Mancienne. Subs: Cole, Rehman, Bailey.

Lofty's Man of the Match - well, so many contenders today. PK opted for the excellent Blackstock. The back four were all outstanding with Mancienne again standing out. But for me, it was Lee Cook who was a constant threat all afternoon and the U's defence never did quite come to terms with him.

I can't say enough just what a great three points this was, especially when you consider how well Colchester are doing. But we also were up against a referee that gave us absolutely nothing and who also deems that two footed tackles are acceptable!

To sum up today, we couldn't have asked for a better start to 2007 so long may it continue!

HAPPY NEW YEAR EVERYONE!
©LOFTY