One Nil, and We Effed it Up!!!
Hull 2-1 QPR

Well firstly, I must just mention that my public call online for the gang to make the effort fell on deaf ears and just the normal two, myself and PK made the long, but easy trip to Yorkshire today. Incidentally, it must also be mentioned that with PK suffering a heavy cold and myself, let's just say feeling the pinch a bit after Christmas, we still made the effort! PK also, defied the Sat Nav that was desperately trying to take us up the A1(M), and stuck with the M1 and knocked a massive 30 minutes of the ETA.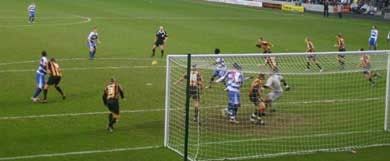 On not long arriving back home, obviously gutted but in good spirits, I have trawled through the various QPR sites for news and views etc and have been stunned by gaffer John Gregory's post comment of - "we were cruising until the last eight minutes!?!

If 'cruising' means that we spent the whole second half fighting for our lives and somehow surviving wave after wave of Hull attacks, then I guess he was right. But any R's fan at the game will surely be as amazed and perhaps as worried as I am with that statement.

As you would expect in a relegation clash, the first half was tight, nervy and at times scrappy. But on the stroke of half time, the game swung in Rangers favour as Myhill failed to deal with Cook's low cross and Dexter Blackstock stabbed the ball home to give the R's the lead.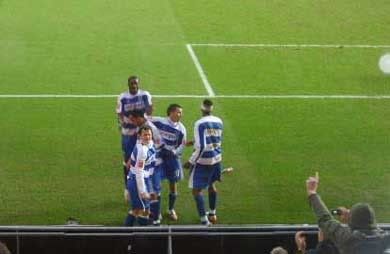 The second half - and again, as you would expect, Hull came out at us and created chance after chance - missing an open goal, hitting the post, hitting the bar, you name it... and although disappointing, it was no surprise when the equaliser finally came on 85 minutes through Elliot. Lee Cook then received his second yellow for speaking out of turn to the referee about a penalty appeal when Furlong was firstly brought down, then a Hull arm caught Cook in the face. His deserved first, for hacking at a Hull player for having the cheek to take the ball off him - Nice one Lee! We just needed you missing for Luton and Southampton...

If things couldn't get any worse and just as we were ready to take a valuable point home, Elliot headed home a free kick in stoppage time to give Hull the victory that in fairness, they deserved.

QPR: Royce, Bignot (Timoska 32), Bircham (Baidoo 60), Lomas, Cook, Kanyuka, Stewart, Jones, Blackstock (Furlong 77), Smith, Mancienne. Subs: Cole, Bailey.

Lofty's Man of the Match - Steve Lomas

This was a bit of a double edged sword for Rangers. If we would have held on to win, it would have no doubt gone down as a hard fought, battling performance. But the fact that we lost in the manner that we did, means that people are now questioning the tactics of trying to hang on to what we had?

Either way, it doesn't mean that I am any less gutted tonight...
©LOFTY