Baidoo Hands Rangers a Replay...
QPR 2-2 Luton

Yet again, I find myself writing the report on a Sunday morning with a slight hangover as after the game, the gang descended on the Grand Junctions Arms in Southall for as always, an excellent gig from Dog Chewed The Handle. An added bonus, was that we were also in the company of Bad Manners frontman, Buster Bloodvessel who was more than happy to have a chat with everyone - lovely stuff!!

But beforehand, the gang that DID actually turn up to the game (stand in a corner Mr Corp!!) saw a typical FA Cup tie. The game had just about everything - farcical conditions, mistakes, bad refereeing, four goals and also, a touch of controversy thrown in!

Rangers were well on top for about 40 minutes with Smith and Cook peppering the Luton goal. We were then wondering just if it was going to be our day when a stonewall penalty was waved away on 17 minutes - Jimmy Smith up-ended in the box by Robinson. But we eventually broke the deadlock on 36 minutes as Blackstock headed home Cook's superb corner!

Luton then did exactly what they did in the league game, and two quick goals had Rangers trailing. Rowan Vine finished well on 44 minutes and just after the break, a defensive mix up saw Feeney stab the ball home from close range. It was then anyone's game but on 76 minutes, Rangers drew level in controversial style. A corner from Cook caused a massive goal mouth scramble and as the defender on the line went to clear, Shabazz Baidoo threw himself into the mix - the ball struck his hand a flew into the net.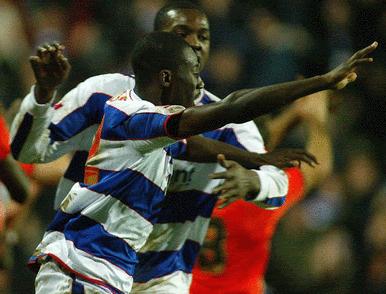 It was definitely a case of ball to hand and no way deliberate, but you do see these disallowed. But in a game where as mentioned, a clear penalty was waved away, I will take that gratefully and things do indeed even themselves out at times. But things wouldn't quite be the same in a Rangers/Luton game if Mike Newell didn't have anything to whinge about!

QPR: Royce, Bignot, Mancienne, Stewart, Kanyuka, Cook, Smith, Lomas (Bircham 71), Ward (Baidoo 71), Blackstock, Jones (Furlong 63). Subs: Cole, Rehman.

Lofty's Man of the Match - Lee Cook

So, the 4th Round of the Cup is still proving elusive for the R's, but at least we are in the hat this time round. Overall, I think a draw was about fair on the day but I must be honest and say that on a personal note, a replay was the last thing I wanted. Still, let's see what the draw brings and let's wait and see if we get our traditional Saturday off soon...
©LOFTY