Decisions Decisions...
QPR 0-2 Southampton

I deliberately delayed this report until I had seen 'The Championship' on ITV this morning. I was angry yesterday after it seemed we were cheated out of a hard fought point against Southampton... and now I am even more angry!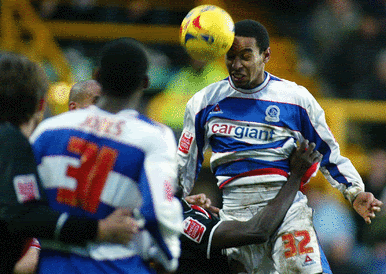 Although lacking that final bit of quality , Rangers matched their high flying opponents until the 82nd minute. Then from a corner, Bradley Wright-Phillips challenged Simon Royce who fumbled the ball to Rasiak who stabbed the ball home from close range. Rangers then went straight up the other end and from a long throw, Davis fumbled and Blackstock stabbed the ball home - this time it was disallowed for a foul on the keeper. Blackstock celebrated, the fans celebrated and then stared in disbelief. The fact that Davis clattered into Damion Stewart when going for the ball, not the other way round, made it even more painful.

Wright-Phillips made the game safe in stoppage time for the Saints with a neat finish. But it makes things even more disappointing when you hear the opposition Manager, George Burley say;

"To be honest I thought both goals were fouls. Both keepers were nudged and for me they were both free-kicks so if I was John Gregory, I'd be very disappointed."
QPR: Royce,Rehman, Mancienne, Stewart, Timoska, Baidoo, Lomas, Bircham (Bailey 19), Smith, Jones (Nygaard 73), Blackstock. Subs: Cole, Kanyuka, Furlong.

Lofty's Man of the Match - Mancienne was yet again, a class act. But for a more than solid home debut, the award goes to Sami Timoska.

So yet another home defeat, but we were denied a crucial point by some poor refereeing. Rangers are in trouble without a shadow of a doubt, but it makes things even more frustrating when things like this happens. The day was also topped off nicely by my car breaking down after the game, waiting for the AA and very nearly missing my mate's party.

Moving on and personally, I have mixed views on the FA Cup tie at Luton this coming Tuesday. On one hand, we win and it's a televised clash with Blackburn next Saturday and some needed revenue for the Club. On the other hand, in our present state, do we really need this? I would swap a Cup run with Championship points any day.

Finally, I feel I must just mention that for the second week on the trot, the players just trudging off the field at the end of the game and NOT acknowledging the supporters!

Okay, we understand that you must be disappointed, but hey, so are we!!!

©LOFTY