Painfully Worrying...
Barnsley 2-0 QPR

Well, we have been threatening it, but Rangers slipped into the bottom three of the Championship tonight, after losing yet another one of those 'must win' games away at fellow strugglers Barnsley.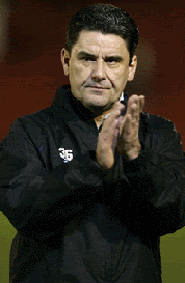 I have mentioned this before I know, but whatever is the reasoning at the FA, behind sending London sides to Yorkshire on a Tuesday night is beyond me? Pressure of work, amongst other things, meant it was always going to be a tall order to get there tonight. So it was the BBC Radio commentary for me and I now can't make up my mind what is worse or more painful - listening or going?

I was hardly filling with confidence either after hearing things like;
'What is Rehman doing' - 'Rangers look nervous' - 'defenders standing like statues' - 'disgraceful defending' - masters of their own downfall'
Rangers went behind just on half time after being well on top - Richards scoring for the Tykes. In the second half, the major incident was a 'stonewall' penalty for the R's being waved away by the referee for handball. But the nail was finally hammered into the Rangers coffin when Brian Howard lobbed Royce in stoppage time for 2-0.

QPR: Royce, Rehman (Nygaard 85), Bolder, Lomas (Ainsworth 74), Cook, Stewart, Timoska, Furlong (Jones 70), Blackstock, Smith, Mancienne Subs: Cole, Kanyuka

We are in trouble and we can no longer look over our shoulders and rely on other results because we are now in the bottom three.I really don't like to make comments about the performance when I wasn't there, but when I hear the commentator at the end of the game say;
'why are the supporters clapping them off, they were rubbish'
makes me wonder...
Other results tonight - Hull 1-2 Leeds, Birmingham 1-3 Southend...

Anyone else worried?
©LOFTY