Disgraceful...
Southend 5-0 QPR

Just as we thought this week couldn't get any worse...

Last week's victory, that gave everyone a lift seems a distant memory tonight as we came crashing back down to earth with the most almighty thud! Rangers yet again saved a diabolical performance for the Sky cameras and yet another 'six pointer' defeat.

An injury to my foot meant that I had to be sensible, take the docs advice and give this one a miss. The fact that it was on TV made it a bit more bearable but the biggest drawback of all, was that I had to sit through all of the replays! PK travelled to Roots Hall with young Phil who bought my ticket from me and to be honest, I am thinking of giving him his money back!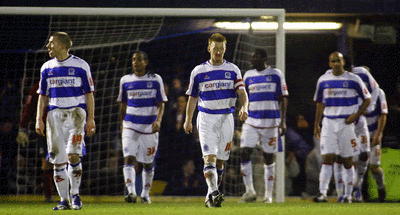 Southend took the lead on 9 minutes in a half they dominated. A somewhat dodgy backpass from Lomas was met by Royce who blasted the ball against Bradbury and into the net. Despite the hosts domination, Rangers had a definite penalty turned away after Cook was clearly tripped in the box. Not for the first time this season, a poor decision had cost Rangers dearly.

Onto the second half and although Rangers started to up the tempo, the game changed drastically on 69 minutes. Timoska went off, Rehman came on and the defence became a shambles and I don't think I need to go on from here.

QPR: Royce, Cullip (Jones 78), Bolder, Ainsworth (booked), Rowlands, Lomas, Cook, Stewart, Timoska (Rehman 69), Blackstock, Mancienne Subs: Cole, Nygaard, Smith

Lofty's Man of the Match - Dexter Blackstock

It remains to be seen if we are still out of the bottom three of the Championship by five o'clock tomorrow. But to be honest, we deserve to be there!

At this point, I must just give credit to Southend United tonight. They fought for every ball, they won every tackle, they never stopped working and basically wanted it more! They gave the type of performance that you would expect from a side fighting against relegation.
©LOFTY