Oh We Don't Like To Be Beside The Seaside...
Blackpool 1-0 QPR

An injury time goal saw Rangers head back from the seaside with what they deserved - absolutely nothing! Overall a VERY poor result, a VERY poor performance, in a VERY poor game played in VERY poor conditions. However, it wasn't all bad and there was a massive plus point... it didn't rain.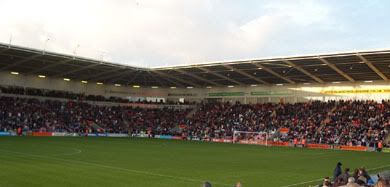 Apologies for the report being much, much later than the norm, but being Blackpool, it HAD to be a weekend away and what a great weekend it was too. It was just a shame we had to go to the match in between time. We arrved around midday and checked into the excellent and highly recommended, Fylde Hotel and relaxed before the game with some excellent hospitality.

Blackpool is not the best place for an away fan to watch their football and there were no improvents to the visitors end since our last visit - and we were charged £17.50 for the privelage of sitting in an open air, temporary stand built on soggy clay. With two ends open, there was also no protection from the howling winds that definitely affected the game, that simply, Blackpool dealt with much the better.

The first half was more or less a non event with the exception of a point blank save from Lee Camp. The second half was worse as sadly, Rangers, playing against the wind seemed to sit back and hold on for the point. However, proceedings were livened up with a handful of R's fans trying desperately to liven up a bitterly cold away end.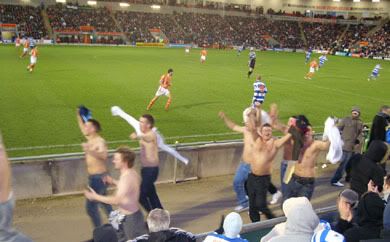 With the wind at their backs, Blackpool played like they wanted to win the game and win it they did, and deservedly so I am sad to say. In the 91st minute, Ben Burgess arrived unmarked in the 18 yard box to loop his header into the corner of the net.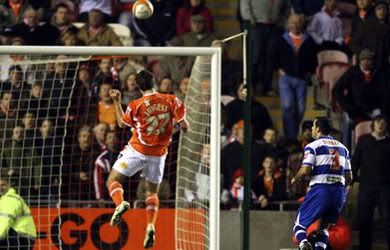 QPR: Camp, Barker, Stewart, Bolder, Buzsaky (Moore 77), Rowlands, Malcolm, Vine (Ainsworth 69), Sahar (Nygaard 46), Leigertwood, Sinclair. Subs: Bailey, Goodchild.

Lofty's Man of the Match - Lee Camp, who simply did NOT deserve to be on the losing side with an outstanding display in what must have been terrible conditions for a goalkeeper.

To sum up, this was a very disappointing showing with only Camp and Stewart coming out of the game with any credit. With the recent takeover and the much expected new arrivals coming in the transfer window, no one seems overly concerned with our lowly position at the moment. Okay, so overall, the performaces have improved greatly in the past few weeks, but the results haven't. Thankfully, we didn't let the football spoil what was an excellent night out, but I think it's best not to write a report on the evenings events ;-)