R's Held by Blunt Blades...
QPR 1-1 Sheffield Utd

Young starlet, Angelo Balanta scored his first goal for QPR and turned out to be the highlight of the day, in a very dull afternoon at Loftus Road.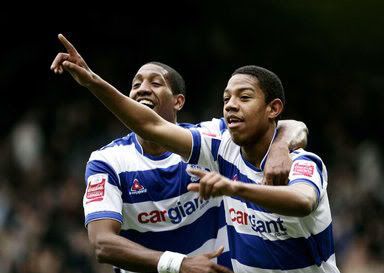 Firstly, an apology for the lateness of this report, but shortly after the final whistle, myself, PK, California Hoop and Darren, descended on Corp's house for his early birthday celebrations - which went on way onto the early hours of the morning! Happy Birthday Mate!

Onto the game and despite the Blades attempts to kick Rangers off the park, we finishsed the first half a goal to the good - On 19 minutes, Hogan Ephraim turned United defender Gary Naysmith inside out before playing in a dangerous low cross, where the Angelo Balanta was on hand to steer the ball home from close range to give the R's a deserved lead.

But after being pretty comfortable and certainly not for the first time in recent weeks, Rangers invited the visitors to come onto them and were drawn into battle rather than play our own game. Rangers created little in the second half and 12 minutes from time, the Blades were level - when the somewhat 'annoying' Morgan fired home a low shot from the edge of the penalty area through a mass of bodies to grab a point.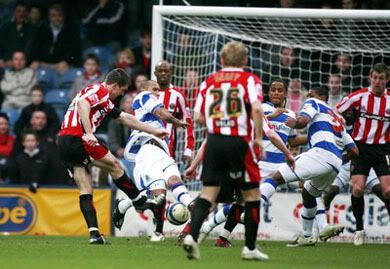 QPR: Camp, Delaney, Mancienne, Rowlands, Connolly (Stewart 73), Agyemang, Ephraim, Vine, Hall, Leigertwood, Balanta (Blackstock 73). Subs: Pickens, Lee, Rehman.

Lofty's Man of the Match - Michael Mancienne

In summary, a very disappointing second half from the R's led to an equally disappointing, but fair result on the balance of play. As already mentioned, Rangers were drawn into playing Sheffield United's hussle and bussle game, which didn't make for good spectacle and frustrated Rangers for long periods. The suspended, Akos Buzsaky's creativity could well have made a difference...