No Cup Hangover for the Clarets as QPR Crash and Burn...
QPR 1-2 Burnley

Burnley came from behind to win 2-1 at Loftus Road, Dexter Blackstock had opened the scoring for the R's on 14 minutes. Both sides were fresh from their midweek Carling Cup expolits, but there was no cup hangover for the Clarets who in truth, deserved their victory.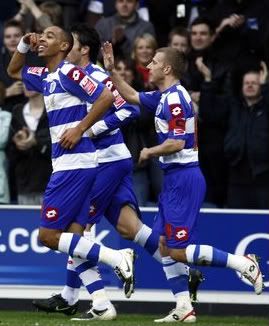 Maybe people were still recovering from their trips to Old Trafford midweek, but it all seemed a bit subdued around the ground before kick off. The news also that Akos Buzsaky will miss the rest of the season would have also contributed to that somewhat, I'm sure.

Onto the game and Rangers started superbly and went ahead on 13 minutes, when Dexter Blackstock collected Lee Cook's pass and fired into the bottom corner of the net from ten yards. Blackstock then had a header from Hogan Ephraim's corner tipped over by keeperJensen, who also saved a long-range shot from Martin Rowlands. Cook fired over with a sweet volley as the R's continued to dominate, but Burnley equalised against the run of play on 34 minutes - Gudjonsson's pass found Robbie Blake unmarked and was given time and space to shoot into the top corner past Radek Cerny and from there on in, Rangers lost their way.

Burnley continued to put Rangers under pressure in the second half but Rangers responded and had strong appeals for a penalty waved away after Blackstock was brought down by former QPR defender Clarke Carlisle. But on 59 minutes, Burnley were ahead as Mahon smashed home from the edge of the penalty area when Blake's cross was poorly cleared by Fitz Hall.

You could tell it just wasn't going to be Rangers day, when referee, waved away what looked like another stonewall penalty as Blackstock was again brought down, this one looked even more convincing than the first.

QPR: Cerny, Stewart, Hall, Blackstock, Rowlands, Ramage, Connolly (Delaney 46), Cook, Tommasi (Mahon 52), Di Carmine, Ephraim (Agyemang 62). Subs: Cole, Agyemang, Ledesma.

Lofty's Man of the Match - Radek Cerny

Well, another disappointing result and dare I say, performance, but take nothing away from Burnley who are on a great run and in my opinion, are the best side I have seen at Loftus Road this season. But as the weeks go by, Rangers lack of firepower becomes more and more of an issue and the decision this week to let Angelo Balanta and Romone Rose go out on loan, is just baffling? I only hope that there is something in the pipeline to back these decisions up?

I will finish today with yet again, referees being in the news in the past week for various reasons and the 'respect' campaign that is being forced down our throats more and more. But how on earth, are you supposed to respect officials like Stuart Attwell and the complete fool we had today??? I ask you?