QPR Pay the Price...
Barnsley 2-1 QPR

QPR's play off hopes took another set back, with both a defeat and a dire performance away at Barnsley.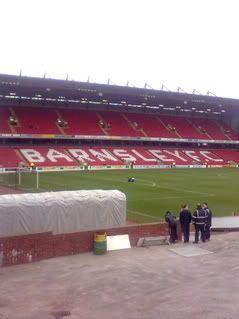 Okay, well the opening line maybe a bit harsh I guess? Harsh on Barnsley who thoroughly deserved the three points with the difference being, they wanted it!!

Despite leaving later than we wanted to, it was just myself and PK today and a breeze of a journey saw us arrive at Oakwell just after 1pm where we met with Leeds based R's friends who had a much shorter journey than the norm for this one. Much of the talk beforehand was with regards to the recently announced Season Ticket prices for next year. I will elaborate with mine and my friends feelings on this in a second, because trust me, the report will NOT take long!

After a scrappy opening, Barnsley took the lead on 26 minutes when Mifsud found space on the left and aimed a pinpoint cross for the far post where Bogdanovic was waiting 'unmarked' to guide a smart header inside the post. The lead lasted just nine minutes when Rangers produced an almost carbon copy strike to level. Matteo Alberti showed a neat touch on the left and his cross found Damien Delaney, whose cool header deceived keeper Heinz Muller. At the time, we thought it was Blackstock's goal and even Sky gave it to the R's frontman. But it was, clearly Delaney's and a fine header it was too.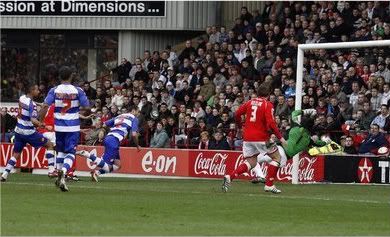 But two minutes before half-time the Tykes were again gifted a goal. Da Dilva's first shot was blocked by Kaspars Gorkss, but the Brazilian saw the opportunity when the ball dropped for him again in the area and he lashed a low shot to beat Cerny.

The second half as far as Rangers were concerned, was a non event and if anyone was going to score again, it would have been Barnsley, who won this game in midfield where Rangers were sadly lacking.

QPR: Cerny, Delaney, Stewart, Leigertwood, Routledge, Blackstock, Gorkss, Connolly, Miller (Rose 55), Alberti (Lopez 69), Helguson (Di Carmine 80). Subs: Mahon, Hall.

Lofty's Man of the Match - Matt Connolly

Moving swiftly on and from one disappointment to another - QPR last week announced that they have brought back the early bird renewal for next years Season Tickets and the prices have been frozen. Good news you may think? But no, with the reduction in VAT, they have infact risen if you look at it that way? Also, to take advantage of this offer, you have until mid April to sign up for next season at the same, heavily increased price we paid for this season. Now, for most, there is just ONE more pay day between now and then and in my case, to find £600.

The most worrying thing of all is, that if you are unable to take up the early bird offer, which, always used to have the incentive of purchasing at a reduced price, your Season Ticket is again going up and QPR have somewhat conveniently, omitted the after early bird prices from the latest release on the Official Website. I really dread to think of what they may now be increasing too.

Yet again, QPR are asking us to pay for a product we have not yet received and yesterday's showing, went a long way to showing just how far we are away from the Premier League. With the evidence right in front of their eyes, with the ground yet to be full for any fixture this season and the much hyped 'C Club' a third full at best at every home game, the board have obviously not learned their lesson. They are not football people and for the second year running, the real football people, the supporters are going to have to suffer...