QPR Welcome Back Vine in Another Stalemate...
QPR 0-0 Palace

Paulo Sousa was sent to the stands as QPR and Palace played out a dire goalless draw at Loftus Road which saw the welcome return of Rowan Vine from injury.

QPR went into the game on the back of two decent victories over Swansea and Bristol City, but the International break could not have come at a worse time as QPR's faint play off hopes all but disappeared. There was no PK today due to family committments and Corp was enjoying a Corporate day once again, which meant an appearance from my partner's boy, Aaron, 11, for his first ever game live game. But despite the performance and result, he wants to come again so there must be something about QPR I suppose...

Well if anyone came to this game expecting a decent game of football, myself included I have to add, they would be surely mistaken as Palace were everything you would expect from a Neil Warnock side - not a lot of football, extremely physical, lots of stoppages and the man himself constantly whineing at everything on the touchline. So physical in fact, that it led to Paulo Sousa completely losing his cool when Samuel Di Carmine was kicked in the face, which ultimately led to him being sent to the stands by the referee. Di Carmine received some very harsh treatment from the Palace defence all afternoon.

In all that though, Rangers did create some good chances with Di Carmine and Routledge both going close. But the best of all came on the hour-mark as Taarabt blazed over from 12 yards after Di Carmine's flick had put him through.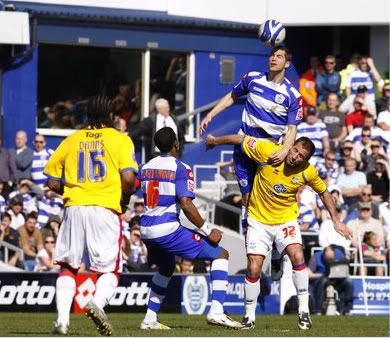 QPR: Cerny, Delaney, Leigertwood, Routledge, Gorkss, Ramage, Connolly, Miller (Cook 46), Di Carmine (Balanta 85), Ephraim, Taarabt (Vine 73). Subs: Stewart, Alberti.

Lofty's Man of the Match - Matt Connolly

In a disappointing afternoon, the highlight for me was on 73 minutes, which saw the long awaited return of Rowan Vine who replaced Adel Taarabt and entered the field to a fantastic reception from the R's supporters. But again, sections of the Loftus Road crowd did little else to do themselves any justice, with this time, Samuel Di Carmine being the fall guy. The chants for Rowan Vine were as early as the first half and then when anything Di Carmine did that didn't end in a goal from there after, brought booing, chants for Rowan Vine and more ridiculously, Dexter Blackstock, until he was replaced on 85 minutes, to which some, still felt the need to boo. I am personally a fan of Blackstock's but he himself has had more than his fair share of abuse from the supporters this season. But to chant for a player that has now gone out on loan to Forest, rather getting behind the team on the pitch is yet again, very disappointing.

And finally, on a HAPPY note, Congratulations to friend and QPR Player Coach, Gareth Ainsworth, who's partner, Donna gave birth to Giselle Lois in the early hours of Tuesday morning!!