Rover and Out??
Doncaster 2-0 QPR

QPR literally gifted Doncaster a comfortable 3 points, as the winless run extended to 8 games at the Keepmoat Stadium.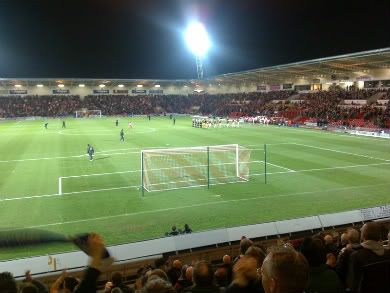 Just myself and Lee, made the long, but extremely easy trip to the Keepmoat Stadium, so easy in fact that we actually beat our Leeds based friends to the post, arriving shortly after 5pm. We then spent a pleasant pre match, walking around the shopping centre, then onto the local McDonalds, where we were served by a charming young lady by the name of 'Matthew'?!??

Sadly, from there on in, the pleasantries began to fade as we made our way into the Keepmoat to further negativity amongst the travelling faithful. I cannot reveal sources obviously, but insist they are reliable and from what we were hearing, it wouldn't be at all surprising if Paulo Sousa was no longer QPR's Manager in the VERY near future. I am hoping that this is NOT true of course, but with Mr Briatore at the helm, it would hardly be surprising that Rangers would be looking for their fourth Manager of the season. I will comment no further at this stage as I do not want to expose the Club as an even bigger joke than it already is...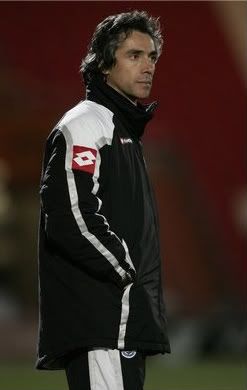 However, the match itself saw a disjointed Rangers put in another disappointing performance and on arriving home shortly after 1am, I was interested in reading Sousa's post match comments;



"If you want to achieve the project of the board - the Premier League - you need players who have a lot of personality. It's a good moment to analyse that."



It maybe just me, but isn't that saying that the players didn't fancy it? The R's were in fact, in full control of this game until the 22nd minute. There was no danger and no pressure as Stewart went to clear a long ball from Matt Mills and he headed back to where he thought his keeper was standing. But Cerny had raced off his line to collect the ball himself and could only watch helplessly as it sailed passed him into the empty net.

The heads went down and Rangers went to pieces and on 30 minutes, Paul Heffernan made it 2-0 - heading home after latching onto a flick from Sam Hird following a corner. The second half was marginally better and Rangers controlled the game possession wise, but although there were a few half chances, I am almost positive that we would NOT have scored had we still been playing at midnight.

QPR: Cerny, Ramage, Gorkss (Lopez 52), Stewart, Connolly, Routledge, Mahon, Leigertwood (Miller 79), Alberti (Rose 52), Blackstock, Di Carmine. Subs Not Used: Hall, Balanta.

Lofty's Man of the Match - Peter Ramage. Only Ramage, Cerny and Connolly can come out of this match with any sort of credit I am very sad to say...

In summary, I really hope this isn't the end of Paulo Sousa's reign at Loftus Road, he, like any Manager will need time. But with the insistance of the owners that it is a 4/5 year plan for Rangers to reach the Premier League, time is something that has proved not be in great generosity to QPR Managers.

To finish on a positive note and yes, there was a couple - it was great to see Rowan Vine warming up with the team before the kick off and it surely won't be long now before we see Rowan back in action following his long lay off. Also, like myself, I guess that the majority of the R's fans at the Keepmoat tonight, were there to chalk off a new ground. But nevertheless, credit must go to the 600 odd QPR fans at the game, who gave the side tremendous support throughout, in what was a very trying evening...