Lee's Latest - Forest Green Report and Dexter Departs...
Once again, Lee Brown is your reporter from the R's latest pre season friendly away at Forest Green last night and news also, of Dexter Blackstock's move to Forest.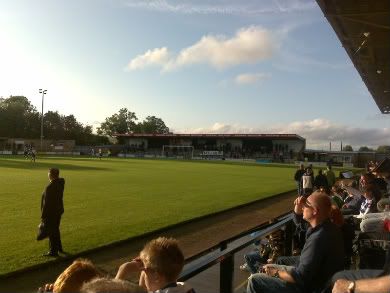 Forest Green Rovers 0 - 2 QPR
by Lee Brown

Following our friendlies over in Slovenia and Croatia the Rangers faithful got another chance to see how preparations in the lead up to the new season were progressing with a visit to Blue Square Conference side Forest Green.

Just myself and Henley Mob member Sam that made the 160 miles round trip to The New Lawn, which must be on top of one of the biggest hills in the country, it was like climbing Everest, my poor car nearly gave up halfway through the climb. Once that was navigated and parked up at a nearby school we took the short walk up to the ground to see what would be thrown at us on this visit.

Jim Magilton named a very youthful squad which included only 6 recognised members from the first team squad, 3 trialists and 8 players from our youth ranks.

The 3 trialists we had on show tonight were:

Andy Marshall
- an experienced goalkeeper with a decent amount of championship experience.
Alessandro Pellicori
- A tall Italian striker who we have been heavily linked to signing over the last few weeks.

Davide Somma
- Another tall striker from South Africa that also has an Italian heritage. His goal scoring record over the past few years is far from impressive, 3goals in competitive games in over 5years!!
We started off in a familiar formation of 4-4-2 with the following team (from right to left) :-

Marshall; Rose, Stewart, Oastler, Brown; Ephraim, Rowlands, Alberti, Buzsaky; Pellicori, AgyemangSubs: Putnins(GK), Parker, Harris, Davenport, German, Somma.

Within 70secs we had our first goal of the game. Rowlands swung in a corner from the left hand side which Rovers keeper terry Burton fluffed horribly, the ball fell in the path of Damien Stewart who had an empty net to poke the ball home. He will never score an easier goal! 1-0!

Rangers looked comfortable in the first 20mins, using a lot of patient build up play between defence and midfield before attempting to hit Forest Green on the break. Romone Rose and Hogan Ephraim linked up extremely well down the right hand side regularly and this is where we looked the most dangerous, attacking down the right with Rose providing excellent overlapping and decent crossing for our front pair. Over on the other side of the pitch Buzsaky was struggling to make any kind of an impact on the game and Brown seemed to be afraid to run beyond Buzsaky in case he got caught out.

Rowlands was his usual self and was bossing the midfield and looking to come deep at any opportunity before trying to set us on the attack again. Alberti seemed to get frustrated in the centre and was pretty much sitting on the back 4 trying to collect the ball and have some involvement, he gave away possession cheaply at times but he was working hard. The centre back pairing of Stewart and Oastler were solid, nothing was going through the pair of them and they were also trying to play the ball out of defence rather than trying to lump it up to the front men.

The next notable action came on 32mins. Rowlands was fouled 30yards out which allowed Buzsaky the opportunity to finally get involved in the game. Akos hit an absolute beauty (which apparently got finger-tipped onto the post) the rebound fell kindly to Pellicori, who made no mistake and placed a diving header into the empty net. 2-0!

Shortly after the second goal Forest Green had their first real attack of the game. After some neat passing David Brown hit a shot from 15yards out which was comfortably dealt with by Marshall. In the last real action of the first half, Agyemang was fed in down the left by Ephraim, took on two defenders and instead of squaring to the advancing Pellicori, who would've probably made it 3-0, took a shot which was blocked and went out for a corner.

3 changes were made at half time. Rowlands, Buzsaky and Stewart made way for Danny Davenport, Ed Harris and Davide Somma.

As with many friendlies the second half was littered with substitutions that largely disrupted the game but this seemed to help the home side as they enjoyed a lot more possession for the duration of the half but never really threatened as the back four of Rose, Harris, Oastler and Brown seemed to soak everything up for large periods and were directed well by goalkeeper Marshall throughout the half.

No real action came until the 62nd minute. Josh Parker had only been on the pitch a matter of minutes and produced a sliding tackle that was late but wasn't helped by the slick playing surface, he clattered into Rovers new signing Andy Taylor, a challenge that Mr Ainsworth would've been proud of! This challenge clearly upset some of the Forest Green faithful and one fan in front of us went as far as calling Parker a "silly boy" in his Bristolian like accent, it was by far the funniest moment of the trip! Me and Sam didn't let the fan get away with his outburst and regularly goaded him with his "silly boy" rant =)

Rangers were still trying to play the slick passing football that a Jim Magilton side does and the understanding that was within the youth players was certainly pleasing to see and we did look dangerous when going forward with the pacey Parker down the left and with the German/Somma partnership looking to break the offside trap.

Rangers seemed to tire over the last 10-15mins and Forest Green enjoyed their best spell of the game and tested Marshall on three occasions. In final minutes Somma thought he had scored the third hoops goal of the evening, heading in from Alberti's cross and was adjudged to be offside, it looked tight from where I was sitting, but I am going to be slightly biased on decisions like that.

Overall it was another good workout, especially considering we fielded a young squad. We really need to crank it up now for the final 3 pre-season games before the start of the season. These games will really show Jim how far along we are and where we need improvements in the squad..... although we already know we need a striker and a left back!

Forest Green can take a lot of credit out of the game, they battled hard and kept going throughout the 90mins. They had a good amount of possession at the end and did cause a few problems in the final 10-15mins.

Marshall, Rose, Stewart (Harris, 46), Rowlands (Davenport, 46), Brown, Oastler, Ephraim, Alberti, Pellicori (German, 65), Buzsaky (Somma, 46), Agyemang (Parker, 59).

Subs: Putnins.

Goals: Stewart (1), Pellicori (32)
A quick individual round up of the performances.....
Marshall-
Organised his defence well, had 4saves to make all game. Was very vocal! In my opinion he would provide decent back up to Cerny, although he does need another run out before we should offer a contract.

Rose-
Another decent game at right back, with experience he could turn into a Bardsley type full back, would need plenty of time to adjust though

Stewart-
As u would expect from the big man, solid, lost concentration once but it didn't cost us anything. Normal
Oastler-
Highly impressive over the 90minutes. Played the ball out of the defence all the time, won the majority of his headers and looked very reassured. Man of the match!

Brown-
Looked nervy first half but looked extremely good second half, regularly running down the left flank and supporting Parker. Would like to see him get another go.
Ephraim-
Looked dangerous down the right wing in the first half. Was a lot more composed in centre midfield in the second half.

Rowlands-
Bossed the midfield in the first half, looked good considering it was his first game back.

Alberti-
Really doesn't convince me as a centre midfielder. Dropped deep a hell of a lot. Would like to see him back out on the wing where he is dangerous.
Buzsaky-
Fantastic free kick that he was unlucky to hit the post with, otherwise I cant really report on anything else he done. Is wasted out wide and needs to play in the centre!!
Pellicori-
Looked unfit to start with but became more involved as the game went on. Looks like a target man and always looked to provide the flick on with all the headers he won. Held the ball up well, he would suit a small pacey striker to provide for. Is definitely worth another look. Easy Goal.
Agyemang-
We got what we expected from big Pat, always looking to use his pace and caused defenders problems when running at them.
Parker-
Crunching tackle in his first piece of action. Looks dangerous with his pace, would like more of a look at him as he could scare a lot of full backs.
Harris-
Looked assured next to Oastler in the centre of defence. Always kept it simple, has promise.

Davenport-
Looked lively during the first 15mins of the first half in centre midfield but was put out on the wing for the final half hour and got quieter. Needs more time in the centre to impress.
German
- Always looking to beat the offside trap, pace caused all sorts of problems. Needs more match time before threatening the first team.

Somma-
After seeing he has scored 3 goals in 5years I didn't expect much. Worked hard, was a Nygaard like work rate but for me needs a bit more. Maybe give him another run out to see what he has got just to make sure before we send him packing. Unlucky with the disallowed header.
--------------------------------------------------
DEXTER DEPARTS...



Well, it was hardly a surprise, but Dexter Blackstock finally completed his move to fellow Championship side and big spenders, Nottingham Forest.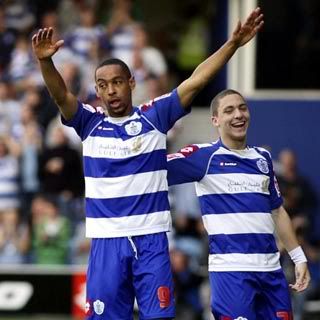 Blackstock joined the R's from Southampton in August 2006 and went on to make 116 appearances in all competitions, scoring 32 goals.

Dexter scored two goals in six appearances for Forest on loan last season and was in Nottingham for a medical yesterday and having passed that and agreed personal terms, has now completed the switch for a fee in the region of £1.6m on a four year contract.

Personally, Blackstock is a player I have rated very highly and am very sorry to see him go and more importantly, I only hope the club have a replacement lined up very soon.

It only remains to thank Dexter Blackstock for everything during his time at QPR and wish him all the best for his future at Nottingham Forest!!!