Magilton Suspened..........
At lunchtime today it was confirmed that Jim Magilton had been suspended by the club over reported incidents after the game against Watford and an internal investigation is to be held.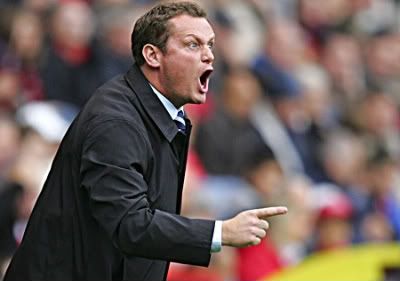 After Rangers 3-1 defeat at Vicarage Road the players were locked in the dressing room for 30-45 minutes as a severe dressing down was handed out.
A Daily Mail report and rumours suggest that Magilton tore into Damion Stewart and then moved onto Akos Buzsaky and after a few words asked the Hungarian if he felt he had been bullied, Magilton received an answer he didnt like and apparently headbutted Buzsaky. The exchange go so heated that Patrick Agyemang stepped in and was offered the same treatment as Buzsaky but Agyemang stood his ground and Magilton backed off.
Buzsaky walked out of the dressing room despite John Gorman asking for him to stay and was locked out of the dressing room for over half an hour as the dressing down continued.
A mark on the forehead of Magilton was evident in a Sky Sports interview after the game and only strengthens the reported rumours.
At time time of writing it has now been said that John Gorman and Keith Ryan are now refusing to work until Magilton is reinstated.
Youth Team coaches Marc Bircham and Steve Gallen have been put in temporary charge from Monday's game at West Brom.
Early rumours are that Alan Curbishley, Steve Coppell and Darren Ferguson are likely targets if Magilton is to depart.
The club have now gone on record to release a statement saying that Akos Buzsaky has not handed in a transfer request and Akos is quoted on the QPR offical site as saying "It is not true at all."
"I am entirely focused on our next fixture against West Bromwich Albion on Monday night. We are in a strong position just three points outside the play-off's and as professional footballers our sole aim is to focus on the upcoming matches."