Deflected goal costs R's a point.
Mick Harford took his struggling R's side to the Ricoh Arena to play a Coventry side that had just recorded a 1-0 victory over high fliers Nottingham Forest. On a bitterly cold day in the Midlands we were (unfortunately) there to see the events unfold.
With myself and Jenson, along with Jenson's friend Paul, eagerly awaiting the visit to the Ricoh with the R's in such blinding form, we set off at 12.45 on an unusually slow drive to the game. After only an hour and 20 minutes we arrived in the car park of our destination and made the short walk to the stadium and along the way met Gobi to discuss how things have unfolded in front of us over the past few weeks and how we couldn't understand the amount of loanees that have come in and limited youngsters such as Antonio German and Angelo Balanta to the subs bench when really they could stamp their authority on the first team, especially when they have looked so promising in their brief substitute appearances. Before we knew it half an hour flew by and we made our way inside the ground and to our seats.
Mick Harford made three changes from Tuesday nights disappointing result against Ipswich. Marcus Bent (hamstring), Nigel Quashie and Hogan Ephraim made way for Peter Ramage, Akos Buzsaky and Tamas Priskin.
Matthew Connolly, unusually, lined up in the centre of midfield alongside Faurlin.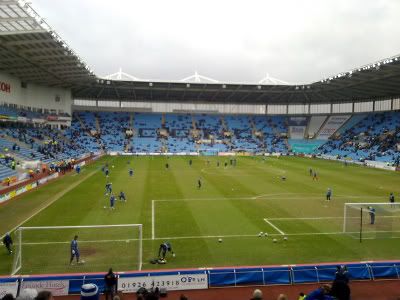 Rangers started the game the brighter of the two teams, winning three corners in the opening minutes. Connolly narrowly put wide after the second corner, taken by Buzsaky, floated over to the back post to Connolly as he scuffed his effort.
After five minutes of uneventful rubbish it was Coventry that got the matches first shot on target and the first goal.
Gary Deegan shot from 20 yards out and it hit a Rangers' defender and wickedly deflected back towards goal and spun into the bottom corner with Carl Ikeme helpless to what had happened.
Now if I'm perfectly honest the remaining 35 minutes of the half were pretty poor and a playing surface that was extremely poor and didn't suit a passing style, which is just as well because Rangers' were resorting to playing some old fashioned Wimbledon style hoofball to, and I wont hold back, a useless Priskin and Jay Simpson that looked to be fed up and looked to keep the ball on the floor and make use of the skill that he has.
The partnership of Faurlin and Connolly in centre midfield looked to be a useful one and full of battle. Unfortunately Faurlin did give the ball away too easily at times but he did get stuck in and looked to help the R's cause.
The half time whistle soon saved us from more hoofball and we retired downstairs for a quick recovery before having to go back and see if the second half would bring us some improved football.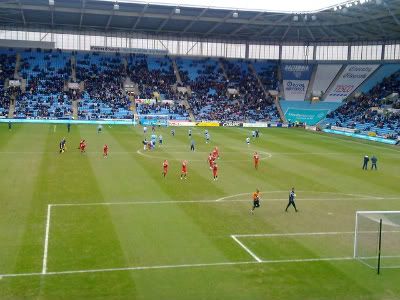 The second half summary is going to be brief I must warn you.
Rangers' dominated possession during the second half yet failed to create many clear cut chances.
Midway through the second half Rangers' best chance of the half came along.
Cook's cross from the right hand side was met by a combination of Damion Stewart and Leon Barnett's feet clipped the ball and sent it heading towards the bottom corner but somehow Westwood in the Coventry goal managed to get down and turn the ball around the post. I would have to say that it was probably the best save I have seen this season by a mile.
In the closing minutes Antonio German attacked the left wing and smashed a ball across the six yard box where Simpson looked to be on hand to tap home into an empty net but somehow Martin Cranie denied the R's top scorer from his easiest goal of the season.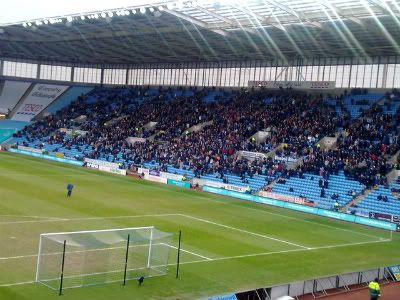 Another disappointing result which deepens our worries and puts us further into a relegation battle. Many teams around us now have a game in hand on us now as well so this really is going to be a worrying end to the campaign.
I will end this now with a few positives.
Radek Cerny
looked pretty sharp in his warm up before the game and hopefully this means he is well on the the way to a comeback after taking time out to recover to the back problems that plagued him for the months before christmas.
Kaspars Gorkss
and
Damion Stewart
looked comfortable enough at the back, hopefully our player of the year duo from last year continue to play alongside each other.
Matt Connolly
looked assured in centre midfield and could provide some decent cover there if needed over the next few months.
Alejandro Faurlin
battled hard n really looked as if he cared out there today. At times his distribution was poor but it was nice to see someone fight for the shirt.
Lee Cook
had an encouraging first half and drifted in a out of the second half but once again was playing for the shirt.
Jay Simpson
looked increasingly frustrated by Priskin's inept performance up front with him and looked to create his own chances. Definately looks as if he gives a monkeys about the club, unlike many of our other loanees.
Antonio German
for me stood out like a sore thumb today. He looked interested and got involved whenever he could. Nearly created a goal at the end. He definitely deserves a place in the starting eleven ahead of both of our new loanee strikers Bent and Priskin.
For the reasons given above the Man of the Match award is given to
Matt Connolly
, just ahead of German but if the youngster was on for longer then he would've stolen the award.
Coventry City:
Westwood, Wright, Clingan, Eastwood, Morrison (Sears 67), Deegan, Cranie, Baker, McIndoe, Barnett, Wood.
Subs:
Konstantopoulos, Hussey, Walker, Grandison, Jeffers.
Goals:
Deegan (10)
Bookings:
Wright (41), Cranie (71)
QPR:
Ikeme, Ramage, Stewart, Buzsaky (Taarabt 67), Gorkss, Connolly, Cook, Faurlin, Hill, Simpson, Priskin (German 55).
Subs:
Cerny, Vine, Quashie, Balanta, Borrowdale.
Bookings:
Connolly (66), Faurlin (70), Gorkss (75)
Referee:
Mr D Foster
Attendance:
15, 247 (586 QPR fans)