Agye the man Stead-ys Rangers unbeaten run.
I write this report on last nights game against Bristol City on a Saturday afternoon still feeling slightly frustrated by last nights game.
Apologies for the lateness of my report, phone problems in the car stopped me from doing my write up after the game so I have instead waited until now to write this with a clear head.
Four of us made the journey down to Bristol. Jenson took the wheel on this occassion as Sam, Iceman and myself joined him on the trip down the M4. Traffic was pretty steady all the way down but the general feeling amongst us was that this may be the night that the record start to the season was going to end. Top vs Bottom, unbeaten all season and then putting that together with us being live on Sky, it was just written in the stars that our first defeat would be dealt out, or would it?
After grabbing a quick KFC next to the ground we made our way to the turnstiles and bumped into Matt and Gobi along the way for a quick chat about our views of the game before making our way in and finding our way to our seats.
Rangers' fielded an unchanged side from the 0-0 draw at Swansea midweek. Rob Hulse took his place on the bench for the first time since his transfer over from Derby.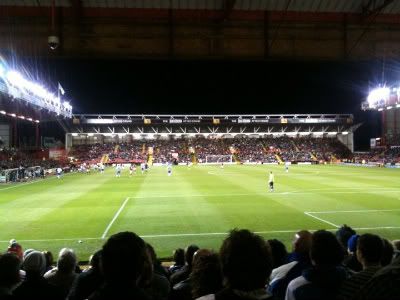 The game started off very lively as both sides looked to break at pace. Rangers' had the first real opportunity as Taarabt found Kyle Walker and the Spurs loanees effort was drilled just wide of David James' post.
The atmosphere in the away end was very good as R's fans and Bristol City fans exchanged songs, City started to sing "we're bootom of the league, we're Bristol City, we're bottom of the league" in response to our top of the league chants, fair play to them!
After quarter of an hour the deadlock was broken and it didnt go with the run of play.
Taarabt's poorly taken free kick allowed Bristol City to break away at pace with Danny Rose down the City left, he cut in and laid off to Jon Stead and the former Ipswich man unleashed an unstoppable shot that hit the underside of the bar into the back of the net. A truely brilliant goal that no goalkeeper would've stopped. On a side note, I had placed a bet on Stead being first goalscorer at 7/1, had to be done seeing as he ALWAYS scores against us.
The goal seemed to liven up the home side and they continued to use the pace of Haynes, Rose and Adomah on the counter attack.
City nearly went two up as Danny Rose sped down the left hand side and forced Paddy Kenny into a good save.
Despite being behind Rangers' were far from being the worse of the two sides, it was just the final ball and finishing touch that was lacking from the visitors.
Just before half time Walker, who was Rangers' best player in the first half by a mile, went on a mesmerising run as he beat two defenders before unleashing a fierce drive that flew just past the upright.
At half time we remained in our seats as the queue getting to the concourse was too long to battle through, however Iceman did brave it and grabbed a coffee for Jenson and a tea for Sam. Sam had asked for two sugars in her tea but little did Iceman know, the two white packets he picked up and put in the tea wasn't sugar, it was salt!! Ice had given Sam a warm salty treat that she wasn't expecting!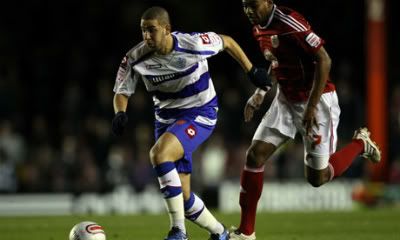 As Sam was trying to get rid of the salty taste in her mouth the second half started and Rangers' broke away with Mackie down the right, beating his defender and then saw his shot rebound off of David James back into his path and the R's top goalscorer headed towards the empty net and into the empty net. On the way in the ball hit Heidar Helguson despite his best efforts to get out of the way of the ball and unfortunately Helguson had strayed into an offside position so the goal was ruled out, pretty harsh on Helguson as he had no intention of interfering with the path of the ball.
City nearly went and grabbed a second straight after as Haynes broke clear of Gorkss and saw his shot deflected wide for a corner.
The Robins pace up front was proving to be difficult to deal with as City had two further chances to extend their lead as Marvin Elliott had a 30 yard effort tipped over the bar by Kenny and then soon after Kenny pulled off another fantastic save from Jon Stead and kept the lead down to just one goal.
Rangers' introduced Tommy Smith, Rob Hulse and Patrick Agyemang as they replaced Hogan Ephraim, Heidar Helguson and the out of sorts Adel Taarabt.
Rangers' came close once more as a Smith corner was met by the head of Connolly and his header looked destined for the bottom corner but saw it cleared off the line by a City defender, however five minutes later the R's got the goal they deserved.
Again it was a Smith corner that was met by Connolly and he swept the ball on target and there was Agyemang, who was on loan at Bristol City last year, as he put the ball in the back of the net via his knee.
Rangers' did try and push for the winner but it came to no avail.
All in all a point was hard earned but well deserved against a Bristol City side that were very lively on the counter and if they continue to break in that manner then they are going to cause many teams a lot of difficulty this year and will pull themselves up to a top half finish, well thats my opinion anyway.
As for the R's, I felt we didnt make the most of a productive opening 45 minutes and Taarabt just wasn't at the races today, he gave the ball away too cheaply and didnt release the ball to players in space at the right times. Hopefully its just one of those games as his creativity will change games for us this year and with us having players like Smith on the bench who are looking as if they can really bring something to the table then he may find himself looking at being on the bench for a game or two. Having said that, when Taarabt did go off we did look more lively as Mackie, Smith, Agyemang and Hulse all looked hungry up front with Derry and Faurlin also looking to join the attack, thats the beauty of having the squad that we do.
Tonights
Man of the Match
saw the usual people gain nominations with Derry getting plenty of shouts, Matt Connolly had a great game once again but we couldn't ignore a superb first half performance and a retty good second half from the man of the moment
Kyle Walker
!
Bristol City:
David James, Jamie McAllister, Liam Fontaine, Louis Carey, Marvin Elliott, Lee Johnson, Danny Haynes, Albert Adomah (Kalifa Cisse 58), Jon Stead, Danny Rose, Steven Caulker.
Subs:
Nicky Hunt, Damion Stewart, David Clarkson, Dean Gerken, Ivan Sproule, Kalifa Cisse, Brett Pitman.
Goals:
Stead (16)
Bookings:
Rose (45), Elliott (77)
QPR:
Paddy Kenny, Clint Hill, Shaun Derry, Adel Taarabt (Patrick Agyemang 78), Heidar Helguson (Rob Hulse 64), Alejandro Faurlin, Jamie Mackie, Kaspars Gorkss, Kyle Walker, Matt Connolly, Hogan Ephraim (Tommy Smith 57).
Subs:
Radek Cerny, Bradley Orr, Fitz Hall, Gavin Mahon.
Goals:
Agyemang (83)
Bookings:
Walker (31), Derry (36), Gorkss (66), Faurlin (72)
Referee:
Mr L Mason
Attendance:
14, 552 (1204 QPR fans)