Mackie stops the Swans from flying away
After suffering the disappointing defeat to Sunderland just five days ago the R's were aiming to bounce back against Swansea at the Liberty Stadium.
The R's have never won or even scored a goal at the Liberty so getting any kind of result looked to be an uphill task.
As always the Lofty Heights gang were in attendance.
The day started early for myself and Jess as we hit the road at 11 in Surrey as we made our way to pick up Sam and Luke from Henley and finally got onto the M4 at 2pm. It was at this time that we realised that the kick off was at 5pm and not at 5.30pm as we all thought! Uh-oh!! Now we was in a race against time to get to Swansea in time for kick off as the traffic in Bristol was a nightmare! With Jenson, Lofty and Smithy ahead of us on the motorway we were provided with the updates needed to ensure we arrived in time.
We finally arrived at our destination with 25 minutes to spare and a 15 minute walk to the stadium ahead of us and a poor Lorna who was awaiting our arrival as we had her ticket with us, we were only an hour late!
We promptly made our way into the ground and straight up to our seats just in time to see the players walk out onto the pitch.
There were three changes from the side that lost on Wednesday. Fitz Hall, Clint Hill and Adel Taarabt took the place of Danny Gabbidon, Matt Connolly and Shaun Wright-Philips.
Rangers' started the game strongly with Taarabt pulling the strings early on. It wasn't long until the R's fashioned their first chance of the game with Mackie forcing a fine save from Vorm in the Swansea goal.
However our defensive frailties were soon exposed with the R's midfield and defence allowing Swansea to waltz towards Paddy Kenny's goal and with their first real effort on goal.
Routledge was allowed to run down the Swansea right and his ball was controlled by Graham, who with his back to goal managed to turn before curling in an accurate shot into the bottom corner with Kenny having no chance. Having seen the replays there are obvious shouts for handball as Graham controlled the ball from Routledge. Thats just the way its going for us at the moment!
Just moments after the restart Swansea had a chance to make it 2-0 when Williams headed just over from a corner.
Apart from a Barton shot that was expertly tipped over by Vorm on the 20 minute mark, there was a lack of pace and urgency about the R's. We seemed to be content with Swansea running at us and seemingly having not learned from the Carrick goal a few weeks ago we still allowed this to happen. However despite this, Hall was keeping tabs on Graham and did not give him much chance to crate many more problems.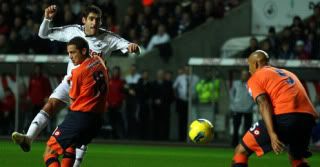 At half time he gang got together to find out what goodies we all received for Christmas as well as discuss our views on what was not great viewing from those of us in the stands. Some inspiration, energy and movement was badly needed if we were going to cause any sort of problem for the Swansea defence.
Buoyed made what must've been a good talking to by Mr Warnock, the R's came out for the second half posing a lot more threat, urgency and even created some good chances.
Taarabt had the first chance of the half s he run at the Swansea defence before seeing his shot deflected just wide of the post.
However on 56 minutes the R's were back on level terms.
Kenny's long kick was headed backwards by Britton and past the Swansea central defenders into the path of Jamie Mackie. Mackie took control of the ball before side-footing the ball through Vorm's legs into the back of the net!
Finally the R's fans found their voices having previously been drowned out by what was a buoyant home crowd over in the corner by our fans.
Mackie was determined to grab some of the morning headlines himself as he run through two Swansea defenders and just as he was going to pull the trigger he had theball nicked off of him.
On 73 minutes Swansea had very strong calls for a penalty, well I say strong calls, I mean a definite penalty waved away. Traore clumsily clattered into the back of Graham and flattened him, how a penalty was not given I will never know. But it wasn't and we have to be very very grateful of that!
Just after the penalty incident Faurlin and Taarabt combined with Taarabt unleashing an effort from 25 yards out which looked to be heading for the bottom corner but Vorm out stretched his left arm and just managed to tip the ball around the post.
The final 10 minutes went a bit stale with the R's looking to settle for an away point when we seemingly had Swansea on the ropes and we were looking to deliver the killer blow and become only the second team to take all three points away from the Liberty this season.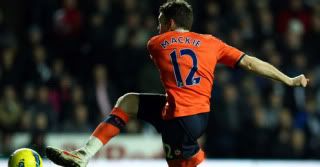 I must say that I walked away from the game today feeling quite disappointed that we did not try to take a much needed three points as we really looked as we had the opportunity to take advantage of a Swansea side that looked slightly short of confidence in the second half. Scott Sinclair was awful in my opinion and with Nathan Dyer being left on the bench until late in the second half, this was a chance to get a confidence boosting win under our belts ahead of our next "easy" game at Arsenal.
I just hope that this point proves to be a much needed one rather than two points that we should have gone searching for.
Man of the Match
proved to be a difficult one for the gang as there were three players that received tonight's eight votes. Faurlin got two of those votes for a much improved second half performance and managed to have a greater influence on the game. Adel Taarabt got three votes for his majestic performance, creating much of the R's attacking threat and completed 51 of his 52 passes in the game. However getting the nod ahead of Taarabt despite also getting three votes but a "special mention" from a gang member swayed the decision in the favour of Sam's favourite player
Fitz Hall
, for his great performance in a back four that was previously shaky, Hall and Hill shored up the defence and restricted Swansea to few chances.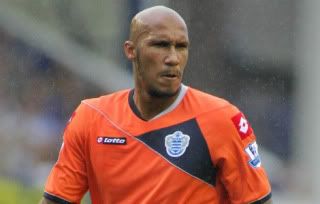 Swansea City:
Vorm, Williams, Caulker, Britton, Graham, Sinclair, Routledge (Dyer 57), Rangel (Moore 57) Allen, Agustien, Richards.
Subs:
Tremmel, Dobbie, Monk, Lita, Gower.
Goals:
Graham (14)
Bookings:
Richards (42)
QPR:
Kenny, Hill, Derry, Hall, Taarabt, Faurlin, Mackie, Traore, Barton, Young, Helguson.
Subs:
Cerny, Orr, Gabbidon, Bothroyd, Connolly, Smith, Wright-Phillips.
Goals:
Mackie (57)
Bookings:
Hill (35), Barton (65), Taarabt (90)
Referee:
Mr L Probert
Attendance:
19,570
On our way back to the car we said goodbye to Lorna who was staying in South Wales for the evening and we made our way to a grub van in the industrial park.
As we were all waiting for our food to be cooked we were joined by Paddy Kenny's mum in the queue who herself had the same idea as us ahead of a long journey home. Having been introduced, Jess took centre stage and showed Mrs Kenny a signed photo that she has of him on her wall and even managed to say that she knew what car he drove whilst trying not to sound too stalker like. Mrs Kenny was very pleasant and very easy to talk to and hopefully we will be bumping into her at a few more away games this season, she will remember Jess that is for sure!
I will be back on New Years Eve(ish) for our report on the trip to the Emirates.

I will wish you all a Happy New Year now and I hope 2012 is as great as 2011 was for us all! Take care and be happy!


U R'SSSSSSSSSSSSSSSS!!!!!!!!!!!!!!!!!!!!!!