We Thought It Was All Over....... The Line
This lunchtime the R's took on Bolton at the Reebok Stadium in what was a 'must not lose' game for the R's if they were to start to climb away from the danger zone at the bottom of the Premier League.
The Lofty Heights gang travelled in hope of a decent performance.
With the game being moved to a lunchtime kick-off by our good friends at SKY, it was an early 6.30am alarm for myself, Jess, Sam and Luke as we set away from Henley at 8.
Lofty had an equally early start as he travelled from Hemel down to Wycombe to pick up PK and Smithy, we then communicated to meet whilst travelling up the M40 and we finally caught up with Lofty's car at Banbury and then proceeded to convoy our way up towards Bolton. Jenson was missing today so Lofty stepped in to take his previous ego on the road that was 'Lewis'. After a swift pit stop in the services as Jess' bladder finally gave away after two hours on the road, we took to the remaining hour of the journey and arrived at the Reebok Stadium in very good time and avoided any hold ups that may of been on the road.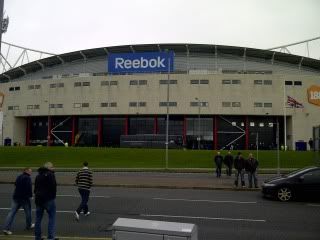 The initial impression of the Reebok was impressive, the whole concept of stadium location and facilities had obviously been well thought of when it was built as you have everything you possibly need within a short walk of the stadium, the only thing that was missing was a pub that allowed the away fans in, however that is me being picky.
As there was no where to drink we made our way in and order a 'cheeky' beer and pie before sharing our optimism with each other. We met Lorna and Michael on the concourse before we then made our way to our seats as the players came out of the tunnels.
Mark Hughes made two changes to the team that drew against Everton last weekend.
Djibril Cisse and Samba Diakite returned after their suspensions and dropping to the bench was Akos Buzsaky. Adel Taarabt missed out with a hamstring injury.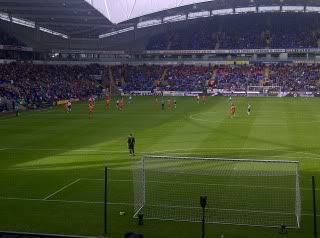 The first half started off as a very scrappy affair with Bolton probably shading the first twenty minutes without really troubling the R's defence.
The closest the R's got to opening the scoring in that period was when Zamora hit the bar before seeing the ball bounce to safety after Cisse had cleverly played him in.
On twenty minutes we witnessed our first 'goal'.
Barton's corner was unusually good and Clint Hill met the cross and headed past the outstretched Bogdan who clawed the ball back from over the line as Rangers' went 1-0 up............ however somehow both the referee and his assistant/linesman/blind idiot failed to see that the ball was clearly over the line. Once again we have been at the brunt of a poor refereeing decision, maybe there was more to come? You bet there was more to come!
In the 37th minute Bolton took the lead.
David Ngog tussled with Clint Hill and had a full handful of the R's defenders shirt as he proceeded to hit the deck and a foul was given......... in favour of Ngog despite it being him that committed the foul. The free kick was poorly dealt with and not cleared properly as the R's defence fell asleep, let Petrov have all the space of the right side of the R's penalty area and he crossed to Pratley who was unmarked, like two other Bolton attackers, and the former Swansea midfielder headed home from six yards out.
It was harsh on the R's to go into half time 1-0 down when we had a legitimate goal ruled out.
As you can imagine the half time talk on the concourse was one full of anger as we saw photos of the disallowed goal and that really got to some of us. You make your mind up if this is a goal or not................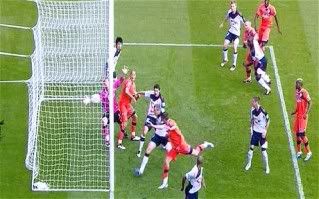 We also received texts that the free kick leading to the Bolton goal was also a foul to us. I will kind of look forward to the analysis of the events when I re-watch the game at home because you can bet that Match of the Day will show 30 seconds of all that unfolded during the first half.
After a quick catch up with Kris, Kempy and Lewis on the concourse and sharing more frustration with them, it was time to make our way upstairs.
We took our seats just after the second half begun and within three minutes of the restart our frustrations turned to elation.
Wright-Phillips' through ball deflected off of a Bolton defender and Cisse collected the ball in acres of space and expecting the offside flag to be raised, however it wasn't and Cisse coolly flicked the ball over Bogdan and set the R's fans into jubilant celebrations as all the R's players came and celebrated in front of us.
This spurred the R's on to further trouble Bolton as we went in search of a second.
After falling slightly flat, Hughes decided to throw the kitchen sink at Bolton and pushed Mackie, Buzsaky and Taiwo into the mix as they replaced the tired Wright-Phillips, Derry and Traore.
This had an almost immediate impact as Rangers' had five consecutive shots blocked before Buzsaky's shot was deflected over the bar for............ a goal kick!
Despite all the second half pressure Bolton managed to grab their second goal of the game. Miyaichi played a good ball that cut through the R's defence so easily and Ivan Klasnic showed how ruthless he is and placed a sidefooted effort past Paddy Kenny and into the bottom corner. A very good finish but it was a dagger in the Rangers' fans hearts.
Despite the goal the R's players heads did not drop and continued to press in search of a late equaliser.
There were two very clear penalty appeals turned away, one of which was stonewall and yet again we were left ruing an officials decision that has cost us at least a point that is so valuable at this stage of the season, especially in our position and the run of games upcoming.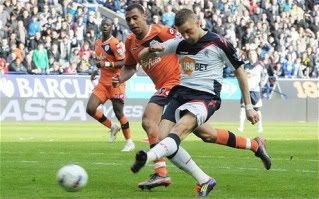 All in all I don't think anyone can doubt the players efforts as the second half performance showed that we are by far a better team than Bolton and we really should of taken a point, if not three from a team that has as bad a home record as we do.
The referee really was not helped out by his assistants but with the crucial decisions in the game he did get them wrong. Even our goal was slightly offside and that decision was a wrong call by the officials. See, I'm not biased.
Onto
Man of the Match
. We had several contenders for this one. Samba Diakite put in a strong second half performance and he looks like a decent acquisition as he is very assured on the ball and despite looking tired in the final ten minutes he did put a real shift in today. Bobby Zamora also shone, his hold up play and aerial threat is a chink in the R's armour and he can lay the ball of to our on-running attacking players so that we can counter attack teams.
However our
Man of the Match
goes to
Djibril Cisse
. His movement off the ball is simply superb and he's a constant threat to defences. He can be a real difference between us winning and losing. Cisse's goals are going to play a vital part in our survival plans.
We all stuck around for a good 45minutes after the game waiting for the traffic to depart from the Reebok Stadium car parks and just try to relieve ourselves of all the frustration that we had after the game.
We spotted Gary Neville, who had just finished his shift in the SKY studio's and we managed to grab a few words with him as well as Smithy and Jess managing to get photos of themselves with the former Man United and England defender.
Neville's words were inspired, he asked if we were QPR fans, with us replying 'yes' and then said that we were unlucky with decisions going against us whilst lastly saying 'you're in deep trouble now aren't you?'. Yes thanks for reminding us Mr Neville!! He did seem to be a friendly approachable person in all fairness and was happy to pose for photos and sign autographs in the car park.
The journey down the M61, M62, M6, M6 Toll, M42 and M40 was again untroubled until we got to Leamington Spa on the M40 and got held up in traffic for half an hour due to an accident on the motorway, not really what you need when you just want to get home after a long day on the road and having decisions go the way that they did.
Just to top it all off, I tried placing a bet on Jelavic to score the first goal in the Everton v Spurs game whilst listening to it live on the radio. A minute after pressing the submit bet button, Jelavic scored and my bet had not been placed in time! Gutted!!! Just about sums our day up!!
Lofty will return a week on Wednesday to report on our next 'easy' fixture against Liverpool.

U R'SSSSSSS!!!!!!!!!!