We Just Like Watching Clint Hill.......
Today the R's faced their second long journey for an early kick off in front of the Sky TV cameras as we visited Leeds, home of the European Champions........ in their dreams!
It was an early start for Jess and myself as we set off from South London at 6.15am. We had the company of Jess' brother James for the trip today, his first proper away day.
Unfortunately we were missing gang members for a variety of reasons. Lofty missed out due to a family holiday, Sam and Luke were looking after the twins, PK was tied up wih work and Jenson was sunning himself in Cyprus.
The journey up was a humerous one, with Jess and James completing a stunning version of Celine Dion's Titanic song deafening me and then moving onto Michael Jackson. They were clearly getting in the moo for X Factor tonight!!
We arrived shortly after 11 and made our way into the ground and met Zach and Michael for a pre-match chat and deliberate what was ahead for us over the next 95 minutes.
Today was also Jess's birthday and she chose to make the trip today. Everyone at LH wishes you a happy birthday!!!
I now pass you on to Jess for her first ever match report.................
Rangers were unchanged from last Saturday's impressive win over Bolton. After missing out through injury recently Junior Hoilett returned to the bench. We headed into the game attempting to equal our away win total for last season and started brightly with Shaun Wright Phillips having his header collected by Paddy Kenny. Soon after Rangers managed their first meaningful attempt at goal. Gary O Neils pin point ball finding Barton to slide the ball home, only to see the goal chalked off for offisde, despite replays showing otherwise. A rare bit of action in a somewhat dull first half lacking any kind of clear cut chances.
I think everyone was pleased to hear the half time whistle and we were treated to a rather unexiting highlights package of the first half. Two well off target shots and one quite Zamora esque from Ross McCormack, quite comfortably nestling into row Z.
We hoped for much better in the second half as Ex R Paddy Kenny waddled over to the goal nearest the away fans, who continued to poke fun at him for the entire second half. It wasn't long before Rangers gave him something to think about as Austin broke clear, but from a narrow angle, he could only muster up a corner.
Leeds weren't looking threatening at all and with Rangers holding on to the ball very well McDermott made a double change on the 57th minute, bringing on Poleon and Smith for the ineffective Varney and Noel Hunt. Soon after Poleon nearly punished some poor Rangers defending, toe poking the ball straight to Green in what was their first shot on target. Rangers were lacking that final ball and in the 60th minute Redknapp opted to replace O Neil with the fit again Junior Hoilett. Hoilett was looking very lively and what we had been missing especially in the first half as he continued to try and drive forward and press the Leeds defence. It wasn't long before the second change was made for Rangers, Faurlin coming on to replace the tireless Karl Henry. After missing a chance to impress on Tuesday night, everyone was pleased to see the fans favourite restored to the team with Rangers piling on the pressure for that all important first goal. It wasn't long before the pressure paid off as Barton's free kick caused confusion in the penalty area. Charlie Austin grabbed hold of the loose ball and managed to loop the ball to Clint Hill who was in the right place to fire the ball into the roof of the net and give Rangers a deserved lead! A collectors item from Hill and yet another assist for Austin, I doubt it'll be long before the goals come along for him, but his contribution to the team so far can't be knocked. This set up a nervous finale as Rangers tried to hold on to their 3rd 1-0 result in a row. Leeds were pressing for the equaliser and started to look slightly more threatening. It wasn't long before the 'sewer rat' made an appearance, much to the disgust of Rangers fans, wishing every possible injury on him. How the home fans can abuse Barton for being a w@nk£r yet give a horrible character like Diouf a standing ovation is nearly as ridiculous as singing songs about being champions of a tournament which they never actually won. Rangers were proving difficult to break down and soon broke away, Junior Hoilett spurning arguably a great chance to double the R's advantage. We always feared their would be another chance or two for the hosts and a good one arrived five minutes before time, the lively Poleon forcing Green into a save. As Rangers tried to see out the game in the dying seconds Austin (their one!) hit a thunderbolt from a good 35yards out, leaving Green helpless, only to see his effort hit the top of the crossbar! Needless to say plenty of pairs of pants were ruined as that proved to be pretty much the last kick of the game.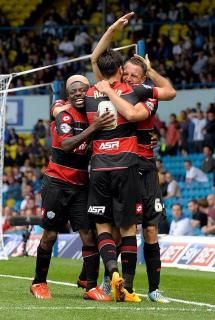 Overall the R's were fully deserving of the three points, with Leeds only having two shots on target all game and that thunderbolt strike that come off the top of the bar.
Rangers' looked a lot more comfortable when Junior Hoilett entered the fray, with his width and energy making an immediate impact and he had numerous chances to get on the scoresheet and should've sealed it at the end but his shot was wayward and could've even squared the ball to Jenas or Austin.
The Leeds fans provided us their usual entertainment, thinking their club is much bigger than what it really is. In the 70's, early and late 90's they were big but they have been ruined by the likes of Peter Ridsdale and the spending spree that left them close to financial ruin. Those days have gone but unfortunately the fan still think they are too big for everyone else, quite funny in all fairness and it was nice to get oe over on them after they completed the double over us in our Championship winning season.
The
Man of the Match
received the full quota of results from the gang as we compiled the votes from in the stadium and from the gang at home.
All receiving one vote were - SWP (Lofty), Richard Dunne (Luke) and Clint Hill (Jess). With four votes from Sam, Jenson, James and myself, winning this week was
Nedum Onuoha
for another outstanding and solid performance at the heart of the R's defence. Onuoha really is establishing himself as a key member of the first team and has impressed many sections of the R's supporters, including those that have decided to set up the Nedum Onuoha Society, with Block HU taking responsibility for this (a cheap plug for you Perry).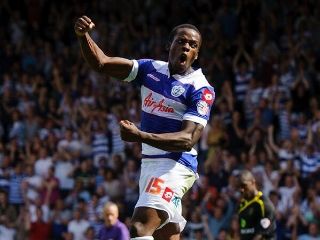 SWP was especially delighted with his Man of the Match vote.......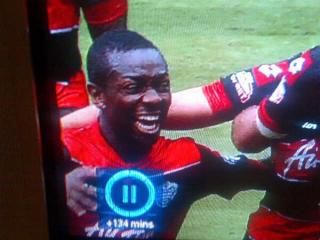 Now we have the international break to enjoy and will return to match duty on the 14th September for the home game against Birmingham.
We will see you all again on Monday, depending on whether we make any new signings.
U R'SSSSSSSSSSSSSSSSS!!!!!!!!!