Bobby's Boxing Day Balls-Up......!
The Boxing Day schedule was not kind to R's fans as those lovely people at Sky changed our kick off time to 7.30pm, meaning many of us had the choice to only spend lunchtime with the family or sit at home and watch proceedings from a comfy armchair whilst those mental enough hit the motorway to Nottingham.
Amongst those of us that were crazy enough to travel were Jess, PK and myself. The rest of the gang were sensible enough to stay at home and I cannot blame them one little bit!!
After a very smooth drive with my Sat Nav taking us the unconventional route via the countryside between Leicester and Nottingham but we arrived in good time for the three of us to walk around the City Ground looking for the ticket office to collect our tickets before getting into the ground to sample the pies (which I will come to later) and then take our seats in the lower corner of the Bridgford Stand.
On our walk around the ground the Team News was released and we were given quite possibly the worst gift an R's fan would want to receive......... Bobby Zamora in the starting eleven!! Zamora replaced Charlie Austin owing to a slight hamstring injury (what is it with us and hamstring injuries this year??). The other forced change was Karl Henry replacing the suspended Joey Barton.
Well it's fair to say we were terrible in the opening 45 minutes!!
If Forest employed a conventional striker rather than a left back for this game they would've been 3-0 up at half time and we'd of been half way home by the full time whistle!
As it was we were only one down at the interval due to Halford's powerful header from Abdoun's cross following some atrocious defending from Rangers'.
Some people will say it's unfair of me to pick out anyone for not playing yesterday, however I have to say that Kalvin Henry and Zamora were the biggest let downs in the first half. They showed no signs of wanting to fight for the cause as Henry was regularly left flat on his @rse following his mistakes and had the audacity to moan at the players around him afterwards. As for Zamora what can I say, useless!!! His attempted cross in the first half was terrible and we all thought his right foot was his weaker foot, it turns out his left is just as bad!!
As expected the start of the second half saw the R's make two changes as Andy Johnson and Junior Hoilett replaced the two useless people mentioned above.
These changes bought a renewed energy to the R's and it looked like we finally wanted to partake in this football match!
Hoilett was soon becoming our attacking outlet that we were lacking down the left hand side whilst Phillips and Krancjar continued their good first half performances.
Rangers' for all their huff and puff just did not create any clear cut chances to trouble the Forest 'keeper Darlow.
On 80 minutes came the controversy for Rangers'.
Abdoun cleared following an R's corner to Halford, who seemingly flicked the ball on to Reid and prompted the linesman to raise his flag for offside and all the R's players stopped as Reid continued and slotted the ball home and went off celebrating before the referee shocked us all and gave the goal and incensed the R's players and fans alike as we all saw the flag go up and just instinctively stopped.
At the time we were all absolutely furious and in a way I still cannot accept the decision as we all know that if any of the top clubs in the country had the flag raised in that situation then the offside would of stood and no goal would've been given.
Having said that.... the right decision was made and Forest rightly won 2-0.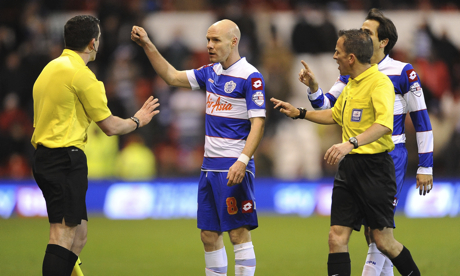 Overall Forest were deserving of the three points and really could've won by more had they had a decent striker on the field.
Rangers' were terrible and very few people can come away from that game saying they had a good game.
We were far too slow with our passing and really did not show any type of adventure during the first half and despite improving significantly in the second half, we just did not do enough to warrant any type of result last night.
We really need an injection of pace within the team, a bit of the unknown because we are very predictable and teams have sussed out our style of play, we need a plan b!
I'm looking forward to welcoming back Barton and Austin at Watford because they were hugely missed yesterday.
Despite the disappointing display we were able to pick out three decent performances, with one getting all the votes from the three of us in attendance and with that being said
Niko Krancjar
gets our
Man of the Match
for the R's.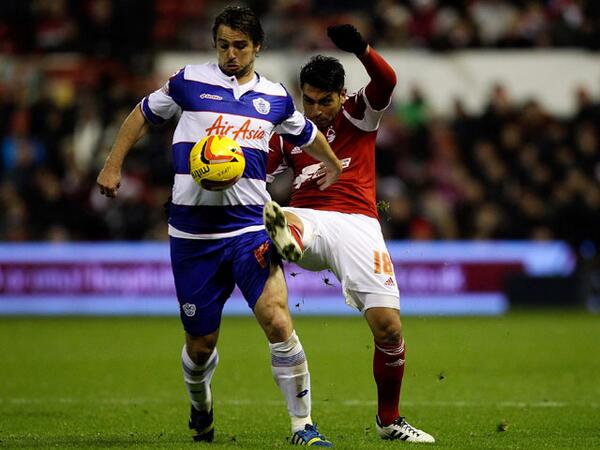 On to the all important Pie Rating!
Both PK and myself opted for the Chicken Balti Pie. PK awarded a 5 and I have awarded a 4.
The reasons behind our ratings are due to the pies lacking in any type of filling and what was there was extremely dry. My pie lacked any type of puff top on it and looked like someone had walked on it before it was given to me.
This gives Nottingham Forest an offical pie rating of 4.5.
Lofty will return on Sunday following the Watford game with hopefully some better news in terms of results and pies!!
As this is my final report of 2013 I'd like to wish you all a very Happy New Year in 2014!!!!!