R's Cherry Pick 3 Points........
Rangers' looked to get their promotion hunt back on track as Bournemouth visited Loftus Road on a cold Tuesday Evening in West London. Could the R's put the terrible showing from Saturday behind them and get back to winning ways? We're about to find out.
Sam and myself set off for W12 later than usual only to find that traffic on the A40 had gridlocked the area, so we decided to re-route and arrived at the ground in good time to meet up with Luke (and friend) before having a good chinwag with Michael and Zach ahead of the game.
Unfortunately Lofty found himself stuck in the gridlocked traffic at Park Royal and didn't move from 6.30 until kick off and had to abandon the final part of the journey and turned around to head home. Absolutely gutted for him!!
Jenson was lucky enough to find himself enjoying the delights of a box this evening where he shared a beer (or ten) with members of the 03/04 promotion season squad, lucky git!!
Jess made her way straight from work and took her usual position in the Paddock with her dad and brother.
I will now hand over to Jess and her dad Clive for their take on the game.........
After Ranger's disappointing show at the weekend at the hands of Doncaster we were looking for a big response against newly promoted Bournemouth at Loftus Road having only dropped two points all season, conceding only two goals.
Redknapp sprung a positive surprise by bringing in Johnson, Carroll and Hoilett for Kranjcar, Phillips and Jenas respectively. Finally this looked like the 4-4-2 that Ranger's fans had been crying out for, especially after the understanding Johnson and Austin have shown in their short spells together recently.
Rangers started brightly, Austin's powerful header being tipped over the bar early on by ex-Rangers man Lee Camp. Shortly after a fine Richard Dunne header flew just over as the defender still goes in search of his first Rangers goal. Despite our early chances Bournemouth did look positive to their credit, unlike many teams who have come to Loftus Road this season, time wasting from the first whistle and parking the bus in anticipation of getting a draw out of the game. Despite this they still failed to create many clear cut chances.
It didn't take long before the usual unsympathetic refereeing towards Joey Barton reared its ugly head. After fouling Arter and conceding a free kick there followed a blatant kick at Barton leaving him on the floor. We all know if this had been Barton kicking an opponent we all know what the outcome would have been. Bournemouth got away with what appeared to be a clear red card offence however this only inspired the R's and it wasn't long before Rangers made the breakthrough. Andy Johnson flew down the left wing and hooked the ball back on the touchline into the path of Austin, who coolly took the ball down before slotting through the legs of Camp.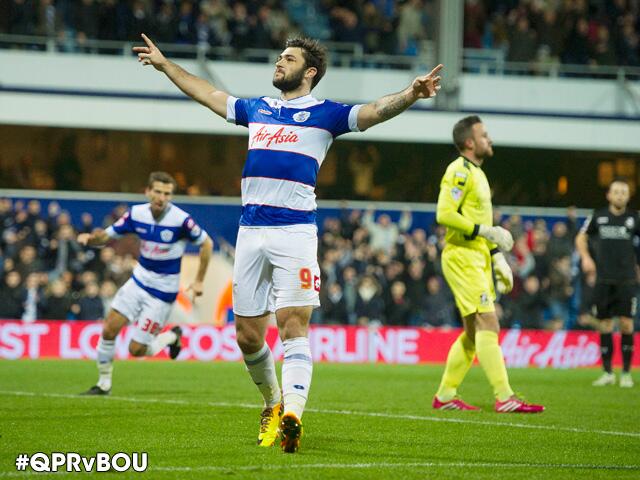 On the half hour mark the appalling officiating continued. Austin found himself through on goal only for the last covering defender Cook to forget that he was in fact a defender and not a goalkeeper and slide along the floor, palming the ball away at least a yard inside the penalty area. The Loftus Road crowd awaited the referee to point to the spot and potentially reduce Bournemouth to 10 men. Austin had already placed the ball on the spot. But to the bemusement of the home crowd and players the linesman decided he wanted to join in with the incompetence and advised the referee to award a free kick on the edge of the area and astonishingly no card of any description. Barton then fired the free kick into the wall and Bournemouth were quick to clear their lines. The half time whistle blew to a chorus of boos for the officials from the still stunned home support.
The home faithful were then treated to a lap of honour by a number of players from the 03/04 promotion winning team.
On to the second half, Bournemouth started brightly but were restricted to long range efforts which hardly troubled Rob Green. We were then treated to a somewhat rare second goal, Simpson whipped in a cross from the right and the ball found its way to the feet of Junior 'hamstring' Hoilett who was lurking at the far post. He managed to find a yard of space and fired home from an acute angle, possibly via a slight deflection. Bournemouth then made a double substitution to try and effect the way the game was heading. Neither player made much of an impact. Whereas the substitution for Rangers of bringing on Matty Phillips turned out to be an inspired one. No sooner had he entered the field he jinked his way past a couple of Bournemouth players and into the area rifling a shot into the back of the net, beating Camp at his near post. Rangers' fans had been treated to a third goal for the first time this season. Not wishing to use up our goal allowance all in one night Rangers seemed content to sit back and see the game out. For once we could relax and enjoy the last 15 minutes of a game for a change.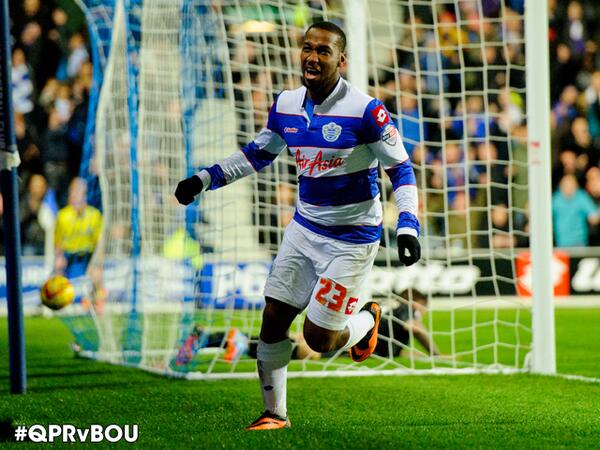 This turned out to be a comfortable, yet eventful evening. Bournemouth were by no means the worst team to visit Loftus Road this season but today Rangers fully deserved the win. The signs are certainly positive from today's display and we all hope this is the beginning of a team really beginning to gel together. The change in formation seemed to take the pressure of goals off Austins shoulders and he looked like he had much more freedom, the sharing of the goals out today can surely only do wonders for everyone's confidence. The return of Tom Carroll also looked to do wonders for our midfield, with him pulling the strings all night.
Thanks Jess and Clive for your insights!!
Overall to get a 3-0 victory behind was a welcome sight and really gave the fans some real hope ahead of the testing fixtures that are ahead in the coming weeks.
I honestly cannot believe some of the refereeing decisions I witnessed today. The kick out at Barton was disgusting and how a red card was not produced is beyond me, not even getting a yellow card out was a joke!! As for the handball, it was clearly in the area denying a clear goalscoring opportunity yet we got a free kick and not even a card being produced was even more shocking!!
Then to see Barton commit is first foul, a trip on a Bournemouth attacker, and have a yellow card handed to him just shows how referees look to book Barton because he is Joey Barton! You watch that bald idiot start refereeing n the Premier League now as a reward!!
As for our visitors, despite the two incidents mentioned above, they were a good footballing side and passed the ball around well, particularly in the second half and created some decent chances to get level before Hoilett's goal and kept on plugging away until the final whistle. Home form is going to be key for them in their quest of staying in the division and if they keep applying the work rate that I saw today then you can see them staying in the division and building forwards into a second season in the Championship.
The
Lofty Heights Man of the Matc
h has three candidates. Firstly I'd like to mention Andy Johnson for a terrific work rate and two assists this evening, however he received zero votes. Jenson picked out Hoilett, Clive, Jess, James and I voted for Joey Barton, who I and the people standing around me thought was the best player by far tonight. However with five votes from Sam, Luke, Luke's friend, Trevor and Michael our
Man of the Match
today is
Charlie Austin
.
Jenson managed to bag an exclusive round of Man of the Matches from members of the 03/04 Squad and are as follows -
Gareth Ainsworth and Kevin Gallen opted for
Joey Barton
Marcus Bean, Mark Bircham and Nick Culkin voted for
Junior Hoilett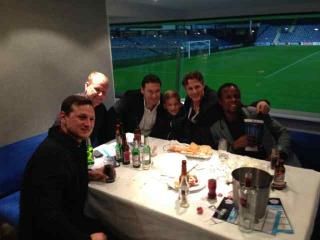 I will return on Saturday as we host Blackburn Rovers.
U R'SSSSSSSSSSSSSSSS!!!!!!!!!!!