Hooray For Henry.....
Last night the R's took on a Bolton side that were fresh off the back of a 7-1 mauling at the hands of Reading and were looking to bounce back by halting our progress in the pursuit of Leicester. Could Rangers' continue the recent good run of form?
With this being a mid-week game the troops were all weary of the potential traffic issues that halted progress on the A40 last time round, however with no real issues around the area Lofty, Sam, Luke, Jenson and myself all congregated outside the Blue and White bar before kick off, with Jess having to arrive by train with her Dad and Brother due to her working commitments. Unfortunately we were missing PK due to having work in Southend and not finishing until late in the evening.
Two changes were made to the side that beat Huddersfield.
Danny Simpson missing out with a back injury, whilst Gary O'Neil dropped to the bench. They were replaced by Armand Traore and Matty Phillips.
Traore's inclusion meant the Assou-Ekotto moved over to an unfamiliar right back position, but a player of his class was never going to struggle was he.....
Within 30 seconds Bolton were forced into a change of personnel as Tim Ream collected a nasty looking head injury after a clash of heads with Charlie Austin.
Bolton had the better of the opening half an hour with Darren Pratley having two great opportunities with one being comfortably saved by Green whilst the other flashed just past the far post.
Halfway into the first 45 minutes it looked like the R's worst nightmare was about to come true.
Austin looked to land heavily on his right shoulder and after treatment the physio signalled for Austin to be replaced. The groans around Loftus Road were evident when the signal was given, not only because we were about to lose our main goal asset but also because we could see that man Bobby Zamora getting ready to enter the fray. However Austin's stubbornness saw him get his shoulder heavily strapped up and he soldiered back onto the pitch to continue on despite looking as if he was in a great deal of pain.
Bolton then came even closer to taking the lead. Craig Davies cut in from the Bolton left and curled a superb effort at the far corner of Green's goal. Green stood there helpless as he saw the ball sail past him, only to see the ball hit the underside of the bar, bouncing out before Traore cleared the lines for Rangers'. A huge let off!!!!
This spurred and quiet Loftus Road into a bit more voice as they got behind the team more vocally and with five minutes of the half remaining their reward was given.
Phillips wriggled free inside the Bolton penalty area and despite Lofty demanding him to "hit it", Phillips floated a delightful ball over to Austin who headed across the 'keeper from six yards out and gave the R's the lead going into the half time interval.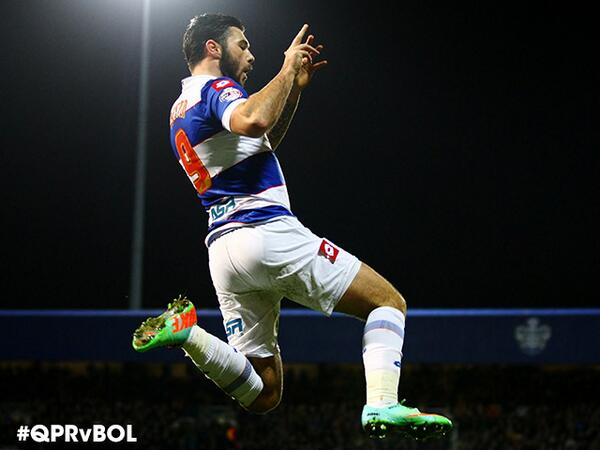 At half time we all gathered once again with Michael joining us on this occasion with relief once again that we had not been punished for playing poorly. The passing was very lacklustre at times, with Henry and Carroll not being able to gain any kind of control in the centre of midfield. We were just grateful as ever that our saviour Charlie Austin had delivered the goods once again.
Rangers' started the second half the better of the teams and five minutes in grabbed a second goal through the most unlikely of sources.
Assou-Ekotto's corner from the right was cleared but only as far as Karl Henry, who took a touch before unleashing an unstoppable drive into the bottom left corner!!!! Henry didn't give much of a celebration, however those of us in the stands were in total shock that we had witnessed a cracker from someone who very rarely takes aim. If I was Henry scoring a goal like that I'd of ripped my shirt off, revealed my beer belly, much like the Paddy Power advert that's currently out.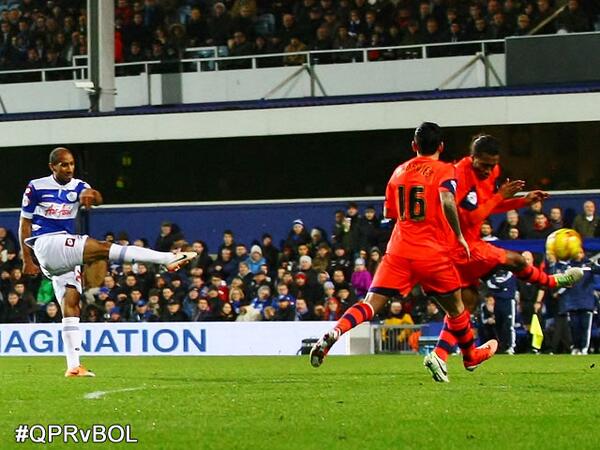 On 69 minutes Austin was taken off as we wrapped him in cotton wool ahead of Saturday's massive game against Burnley. Bobby Zamora replaced him and the Zamora chants started......
It wasn't long until Zamora was involved and in a positive manner! He played a delightful ball for Johnson to run on to and as Johnson advanced on Lonergan he was taken down for a certain penalty, referee D'Urso put the whistle to his mouth to award the spot kick, only to then refuse it and play on..... unbelievable!!!!!
Bolton were given a lifeline with six minutes to go after some sloppy defending left Jay Spearing with the space to take aim and with his shot going safely into the arms of Rob Green it was hugely unfortunate that Richard Dunne got his legs in a tangle and deflected the shot inside of Green to set up a nervy final few minutes.
In the end it was a deserving three points despite not being at our best and with Bolton not making the most of the chances they had in the opening half an hour.
With Burnley dropping points that now gives us a small cushion going into Saturday's early kick off.
We will need to play much better on Saturday than in recent weeks as our passing has been poor and have lacked a tempo in the opening exchanges. When we pass the ball around a lot quicker we tend to open teams up more and create more chances. It would be great to see Barton back in the middle directing proceedings as we really to miss his quality when he's not on the field.
Man of the Match
time. The gangs vote saw a three way tie as Jenson and Luke voted for Matty Phillips, Lofty and Clive opted for Andy Johnson, Sam and Jess picked out Karl Henry whilst myself and Michael chose Niko Kranjcar. This means it goes to Editor's choice and for the first time I am going to go against my original vote and let
Karl Henry
pick up the award despite having a poor game and I give two reasons why, number one being his goal was superb and number two being he'll never win the award again!
Hooray for Henry!!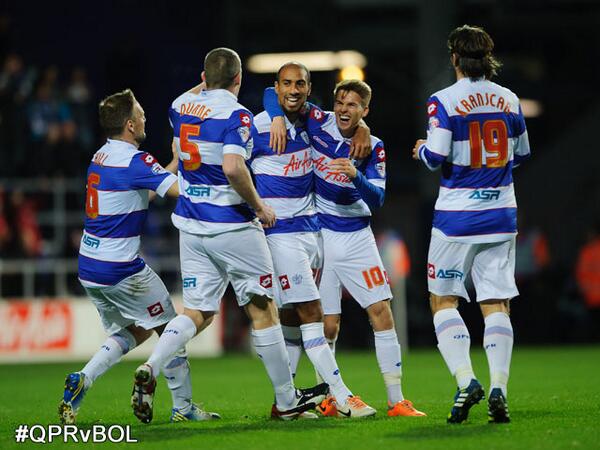 I shall return on Saturday following the huge game against Burnley!!