Introducing Holly...
I would very much like to introduce you all to Rangers newest supporter, Holly.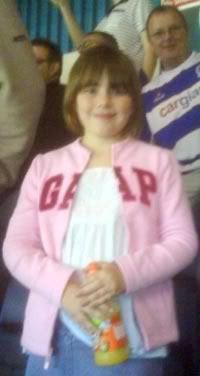 Holly is 9 years old, from Hayes and the daughter of our mate Mark. Due to the absolutely ridiculous ticket prices from down the road, football mad Holly has decided NOT to follow in her Dad's footsteps and follow Chelsea! Holly has been to the Preston and Luton home games and is now totally hooked. She also has a new favourite player - Gareth Ainsworth.

Two games and two wins, Holly seems to have definitely brought us luck and we are trying to persuade Dad to bring her to Sunderland on Saturday ;-)

I am sure you would all like to welcome Holly aboard and hope she will continue to bring us luck!