The R's Are Staying Up!!!

QPR 1-0 Cardiff

Rangers secured their place in the Championship as Dexter Blackstock scored the only goal to beat Cardiff City in a nervy afternoon at Loftus Road. It was an eventful old day - filled with laughter, elation, tension, celebration and every other emotion you could think of. Other than the game and of course, the result, moments of note were the boys hammering the bookies yet again!!...and the appearance of the gay policeman that insisted on enforcing the rule that we couldn't drink our beer in the street! - and we were supposed to take this guy seriously???

Anyway, onto the game and you are going to get a different type of round up from me this time. Because it matters not if the game was good or bad, the only thing that mattered from getting the three points today is that..
THE R's ARE STAYING UP!!!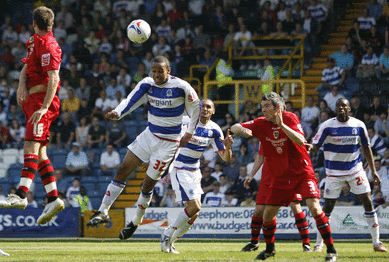 The Goal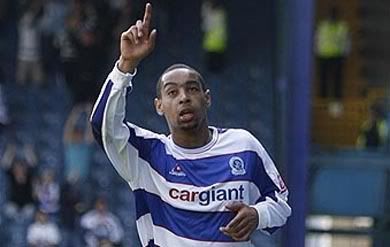 Dexter Celebrates goal No 14
JG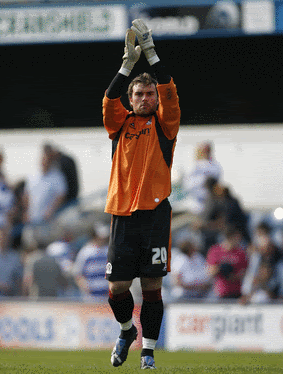 Campy Applauds the Fans (for you Vix)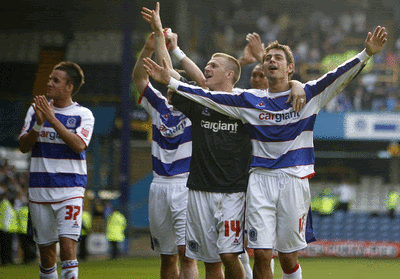 Stand Up and Make Some Noise!

QPR: Camp, Bignot, Bolder, Rowlands (Smith 70), Lomas, Cook, Kanyuka, Stewart, Timoska, Nygaard, Blackstock (Furlong 83). Subs: Cole, Milanese, Bailey.

Lofty's Man of the Match - Excellent performances from Blackstock, Stewart, Kanyuka and Camp to name a few, but today, my award goes to Adam Bolder - what a great signing this was from John Gregory!?!
We are Staying Up!! I never doubted it, really I didn't!! Whaaaaaaaaaaaaaaaat?? ;-)