A Comfortable Afternoon for Celtic...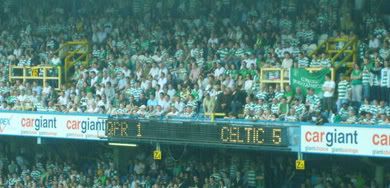 So, the first report I have had to write for a few months and sadly, I am writing about a crushing defeat in what was a comfortable afternoon for the Scottish Champions. Although the result was very disappointing, I suppose you have to keep at the back of your mind that this was only a friendly and was Celtic's fourth compared to our first and the evidence was there for all to see. There for all to see also, was as always, the huge following of Celtic supporters. The R's turnout was a tad disappointing if I am honest, but some people just don't do friendlies and I guess the tickets were a bit on the pricey side too.

But despite everything, it was great to be back and a great chance to get a look at our new signings. But as the teams were read out, it was obvious that John Gregory was using the game as a bit of an exercise as a lot of the presumed first choice players were left on the bench.

The game began lively enough with both sides playing some good football. But Celtic went in at half time with a two goal lead with a fortunate goal from Caponi, who's shot swerved a decieved the unlucky Jake Cole, who had earlier saved a penalty (which I think the large Celtic support won for them) from every reporters nightmare, Venegoor of Hesselink. Brown added the second on 38 minutes with a well taken finish.

Onto the second half and if I sat here going through all the team changes, I will be writing this report forever. But to sum up, Celtic largely controlled proceedings and added 3 more goals to their tally. Two more for Venegoor of Hesselink and one for Macdonald. But the highlight of the half and the best goal of the day, was a superb solo effort from young starlet, Kieron St Aimee.

QPR First Half - Cole, Curtis, Stewart, Shimmin, Barker, Ward, Bolder, Bailey, Rowlands, Nygaard, Moore.

QPR Second Half - Cole, Timoska, Stewart (Cullip), Shimmin (Rehman), Barker (Howell), St Aimee, Bolder, Bailey (Cochrane), Rowlands (Baidoo), Blackstock (Arthur), Nardiello

Lofty's Man of the Match - Adam Bolder

I think it's probably best not to dwell too much on this one and let's not forget that Celtic were good opponents and today played some decent one touch football. Rangers did okay but seemed to lack that killer ball in the final third.

The new boys did pretty well with Curtis shining at right back and Barker looking solid on the left. Nardiello showed some decent touches and I don't think it will be too long before he hits the back of the net for us. I must also mention that despite conceding 5 goals (and some may blame him for one of them), Jake Cole put in a more than creditable performance in the R's goal.