Happy Days... at Long Last!!
QPR 1-0 Norwich

Well, it was very much a night of first's for QPR this season at Loftus Road... our first clean sheet, our first penalty, the first time we have taken the lead and of course and more importantly, our first win!!! AND, in front of the dreaded Sky cameras too!!!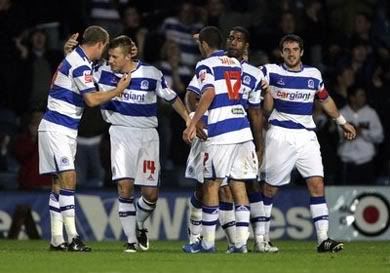 It seems like a lifetime since I was last sitting here writing about a Rangers win and I must say, what an absolute pleasure it is! The majority of the pre match talk amongst us all, was what is now becoming a bit of a lottery to who QPR's next Manager will be? - and although most of the gang had their own personal do's and don'ts, we are still very much none the wiser.

Onto the game and against an also struggling Norwich side, was a 'must win' game if ever I had seen it. Rangers had the better of a dullish first half, with Liegertwood and Sahar going close. There was also the first of three penalty shouts turned down as Sahar was clearly dragged back by Dublin, but referee Walton didn't want to know.

Rangers started the second half like a train and Martin Rowlands thunderous shot smacked the post on 47 minutes. Three minutes later, and penalty appeal number two was turned down. Rowan Vine was pulled and dragged down by Shackell but yet again, Walton was having none of it and you couldn't help feeling that it wasn't going to be our night.

Rowlands again went close before penalty appeal number three on 67 minutes. The impressive Rowan Vine was bundled over by Murray and this time, Walton finally pointed to the spot.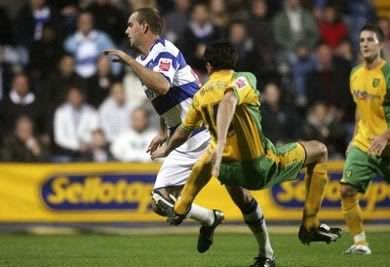 Martin Rowlands stepped up to hammer the ball into the bottom right hand corner to give Rangers a deserved lead and Loftus Road went beserk!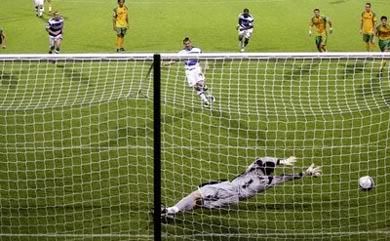 Rangers were totally in control now and Ainsworth, Stewart, Rowlands, Vine and Ephraim all had further chances to make the victory safe. But despite a ridiculous 5 minutes of added time, Rangers held on for a richly deserved three points.

QPR: Camp, Barker, Stewart, Bolder, Ainsworth (Jarrett 86), Rowlands, Sahar (Moore 68), Ephraim (Timoska 90), Vine, Leigertwood, Cranie. Subs: Cole, Bignot.

Lofty's Man of the Match - a good few contenders for this one, with Sky giving it to Rowlands. Leigertwood and Vine also had solid games, but for me it goes to Hogan Ephraim after another superb performance. The night got even better with the news that his loan spell from West Ham has been extended a further month.

To sum up, most QPR fans have almost forgotten what it's like to win again and it was great to see so many smiling faces on leaving the stadium. After weeks of writing about the negatives, there were so many positives to take from tonight. Martin Crainie had a great game at centre back and the back four looked so much more assured with him in there. We looked decent coming forward again with Liegertwood having his best game in a QPR shirt and Vine and Ephraim causing all sorts of problems throughout the night.

It's just a shame now we have an International break, but it feels so much better being a QPR supporter tonight! Happy Days!!