TV Nightmares...
WBA 5-1 QPR

Rangers got a severe footballing lesson as goals from Phillips(2), Miller, Koren and Greening gave the Baggies an extremely comfortable afternoon. Gareth Ainsworth gave the travelling faithful some hope, reducing the scoreline to 2-1 on 24 minutes, but that was as good as it got. It is no secret that Rangers save their VERY worst performances for the Sky Cameras, but now it sadly looks like that not only will we lose, but concede 5 goals every time we appear.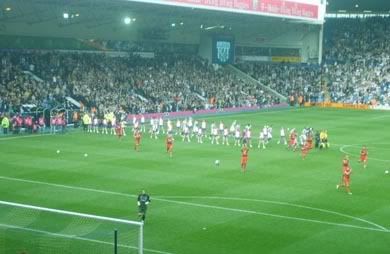 Believe it or not, myself, PK and Phil were quite upbeat as we left for the Hawthorns this morning. Adding to that, the journey was a breeze, we parked without a hitch and were in the ground in plenty of time to catch up with friends and have a beer or two. I was literally, just about to fill in my betting slip and go with my somewhat brave prediction of a 3-1 Rangers win, when the Rangers line up appeared on the TV screens. I then decided not to throw my money away after all, as, (and I think many R's fans will know what and who I am referring too) the team selection again was baffling and we were to take on one of, if not, the best team/s in the Championship with nine men.

Well, as mentioned, the game was on Sky and for this, I assume that most saw it, so I am not going to go through the pain again for everyone. Credit to West Brom, who without a doubt, are an excellent side and playing like that, will beat anyone - and with Miller and Phillips, arguably have the best strike force in the division. But some of Rangers defending was both woeful and shambolic and if you give sides with the quality of West Brom, that sort of time and space, you are going to get punished... and boy, were we pushised!!! At this point, I would just like to put in a quote from my site editor over at Loft for Words/QPR Rivals, Clive Whittingham from his excellent match report and maybe you will see what I am talking about...
'A quarter of an hour in Ishmael Miller picked the ball up wide on the West Brom left and after Rehman backed off and backed off and backed off and backed off and backed off and backed off and backed off and backed off and eventually fell on his arse...'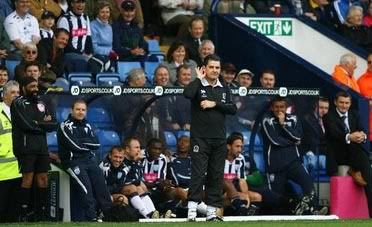 QPR: Camp, Barker (Bignot 60), Cullip, Stewart, Bolder, Blackstock, Ainsworth, Rowlands, Sahar (Ephraim 60), Moore, Rehman (Curtis 46). Subs: Cole, Timoska.

Lofty's Man of the Match - well instead of an N/A, will give it to Albion's Robert Koren who controlled this game from start to finish.

Friends of mine and regular LH readers, will know how much I think of John Gregory and that he has had my continued support. But with team selections and sadly, performances like today's, even I will struggle to defend the Rangers boss. We shall see...