Moore of the Same Please...
QPR 1-1 Watford

Rangers fans were treated to a collectors item as a rare Stefan Moore goal gave the R's a more than deserved point, in what was a much improved performance in a very entertaining match at Loftus Road.

Many Rangers fans, myself included, were predicting a comfortable win for the League Leaders, but the news that Gareth Ainsworth was to start his first game since breaking his leg back in April, seemed to give everyone a massive lift. The same could be said of Sami Timoska, who took the place of Rehman at right back. After the dire performance against Plymouth, a response was needed and I am glad to say, we got one.

The first half started very lively and both sides were beginning to carve out chances. But when called upon, the Hornets found Lee Camp in tremedous form in the Rangers goal, notibly keeping out the returning Dan Shittu's header. The main talk amongst the fans at half time, is that if Rangers could hold Watford for the first 10 second half minutes, then the game would be there for the taking. But as the teams appeared, Ainsworth had been replaced by Stefan Moore, after as always, giving his absolute all. This along with Hogan Ephraim replacing Nardiello upfront before the break.

Watford then took the lead on 49 minutes when Middlesborough loanee, Johnson, who had been diving around Loftus Road all afternoon, managed to stay on his feet to head home after Williamson knocked back the impressive Marlon King's cross. But instead of the dropping heads we had seen a few days previous, we saw the same sort of spirit and fight that we had seen at Bristol City and the latter part of last season - it wasn't long before we were level.

On 58 minutes, Blackstock's header came back off the bar to Stefan Moore and after fearing the worst, we were instead, celebrating as he hammered the ball into the roof of the net.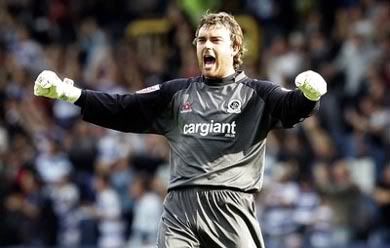 The game then could have gone either way as both sides continued to create chances, but Watford again found Lee Camp in great form. The win we all craved probably slipped from Rangers grasp after Mikele Leigertwood was, perhaps unlucky to be sent off for his second yellow card. However, Stefan Moore very nearly won it for the R's in the final minute, but his clean striker was sadly deflected over with Poom all but beaten in the Watford goal.

QPR: Camp, Barker, Cullip, Stewart, Bolder, Nardiello (Ephraim 40), Blackstock, Ainsworth (Moore 46), Rowlands, Timoska, Leigertwood. Subs: Cole, Bignot, Moore, Curtis.

Lofty's Man of the Match - Lee Camp

The result and performance, may well have bought John Gregory some time and personally, I hope he does get the chance to succeed. But reports and pictures of several out of work managers sitting in the stands, has certainly got me a bit concerned. More so with names such as Martin Allen and Dave Bassett being reported.

But that aside and to sum up, I predicted a 3-0 defeat and obviously, am more than happy to be wrong. But it was also so refreshing to see the fight, togetherness and spirit return to the Rangers side, especially when we went down to 10 men. Long may it continue...