Mikele's Rocket Denies Foxes
Leicester 1-1 QPR

Those at the Walkers Stadium today saw an early contender for goal of the season from Mikele Leighterwood, as the R's came from behind to clinch a point at the Leicester.

After an already eventful season, and I refer to the events off the pitch, many looked at today's game as a chance for Rangers to restart the season. Gladly, it was a trip to the Walkers Stadium which has become one of my favourite away days. The journey is quick and easy and we get to park five minutes away from the ground and have a pre match pint in the very welcoming 'Counting House' pub. Also must be mentioned that Rangers have had good results here the past couple of seasons, which helps of course.

The loyal two of just myself and PK made the trip today, but were a bit apprehensive of the possible outcome as, what happened 7 times to us last season, the team we were about to play changed their Manager the previous week - although, new boss Gary Megson insisted on Sky Sports that he was playing a minor part for this game and not picking the team etc. But for someone playing a minor role, I don't think I saw Megson leave the technical area for the whole 90 minutes! Also, the team Rangers team selection baffled many and didn't really install any further confidence.

Onto the game, which overall, was pretty dull, but we were kept entertained by the, let's just say, a rather large, topless Leicester gentleman who played the drum in the home section. You may recall he was featured in the Sky programme, 'Football's Hardest Away Days', yes, that was him. As expected, their was quite a bit of banter, but all good natured and taken well by man in question.

After a dullish first half and in general, a game of few chances, the home side took the lead on 62 minutes. Damion Stewart up ended (the player who has seemed to have made a career after one FA Cup) DJ Campbell and the ref awarded a penalty. Fans favourite, Iain Hume sent Camp the wrong way from spot.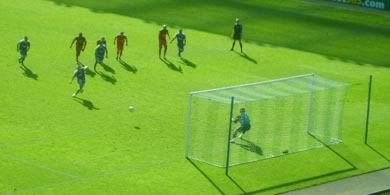 The original game plan, which I think was to come for a point, then had to change and Rangers brought on the lively, Hogan Ephraim. There was now some urgency from Rangers and on 82 minutes, we were level. In a stadium where Rangers just don't score ordinary goals, Mickele Leighterwood struck a 30 yard rocket into the corner of the net.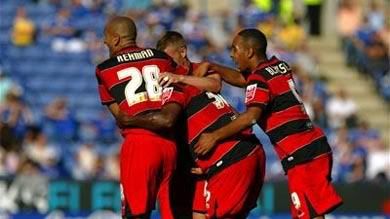 It suddenly was all Rangers and we looked the more likely to steal the 3 points. But we very nearly left with nothing as Clemence struck the Rangers crossbar in stoppage time.

QPR: Camp, Barker, Cullip, Stewart, Bolder (Ephraim 72), Blackstock, Rowlands, Sahar (Nardiello 46), Moore, Rehman, Leigertwood. Subs: Bignot, Cole, Curtis.

Lofty's Man of the Match - Danny Culip - an awesome performance!!

So, to sum up, again it was a disappointing overall performance. But we can take some heart from the game and it was pleasing to see Rangers fight back to gain their point. Nardiello was causing the Foxes defence all sorts of problems in the 2nd half and why Stefan Moore was preferred to Hogan Ephraim is anyones guess? The travelling support was again, outstanding and at this point, may I welcome back our Leeds based friends, Joe, Vickie and Paul.

Finally, those who are following our little betting feature, will notice that I did indeed, predict the correct score today - pity I didn't have any money on it? :-(