Worrying...
QPR 0-2 Cardiff

Apologies for this report being much later than the norm, but after the game, the gang descended on the Brook House for the excellent 'Dog Chewed The Handle' gig, and what a great gig it was too! I did attempt to write the report this morning, but after watching the goals on the Championship, and having a slightly sore head, I decided that I would leave reliving the misery until this evening.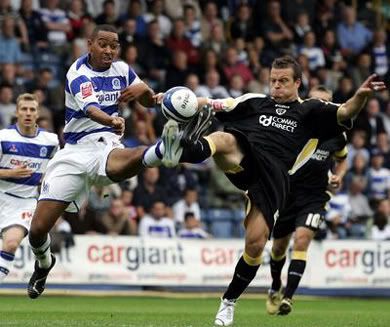 It just goes to show that a week in football can be an incredibly long time. This time last week, it was all positive and there was clear disappointment that we only got a point at Bristol after playing them off the park. So what happens, a week goes by and we are out of the Carling Cup, the Briatore takeover was off and we are facing administration again and yesterday, we were totally outplayed by Cardiff in what was not only disappointing, but also a very worrying defeat.

Well, on arrival at the ground, the talk amongst the gang and indeeed plenty others, was of the Flavio Braitore takeover and that it is now a done deal. The Formula One influence brought an interesting comment from Corp about how Rangers will be carrying out substitutions from now on. But seriously, I really hope that the latest news is true because us QPR fans certainly deserve some good news! No more so than after this latest performance.

Slack defending gifted Cardiff both their goals from Maclean and Parry, but it was no more than they deserved. Rangers had good spells at the start of each half and you never know, if Stefan Moore's shot would have gone in instead of hitting the post, it may have been a different story. But that was about it, and some terrible finishing from Cardiff meant that Rangers started the second half still in the match and you can certainly see why they have brought in Fowler and more recently, Hasselbaink.

QPR: Camp, Stewart, Mancienne, Bolder, Nardiello (Nygaard 63), Blackstock, Rowlands, Moore (Ward 63), Curtis, Ephraim, Rehman. Subs: Cole, Bignot, Cullip.

Lofty's Man of the Match - well this is a definite first for Lofty Heights but in truth, I can't honestly pick an R's player worthy of the award when one of the visitors had such a great match - former R's winger, Trevor Sinclair.

To sum up, if Rangers would have got anything from the match, it would have been a travesty. Cardiff were well organised and played as a team and Rangers performance was one of individuals. As mentioned with the pre season games expecially, the team is lacking width and that final ball into the final third. We need to go to Burnley now to kick start this season and hopefully we will be able to - on the back of a successful takeover during the week.

But, this is QPR we are talking about, does anything go smoothly or normal with this Football Club?