Sweet and Sour...

I'm not normally one to gloat after seeing my beloved team winning football matches. But after Fulham took the lead, we had to sit and endure chants of 'easy, easy', 'We are Premier League' and the ridiculous 'one nil on your cup final!?!?!' - from the small band of Fulham fans. So, Rangers turning things around in this final friendly against our big spending neighbours - made the result even sweeter!

The result was somewhat soured though with the injury to new signing Simon Walton. Simon's studs seem to stick in the ground following a challenge and it is suspected that he has indeed broken his leg. We should find out more in the next 48 hours following X Ray results - Get Well Soon Simon!!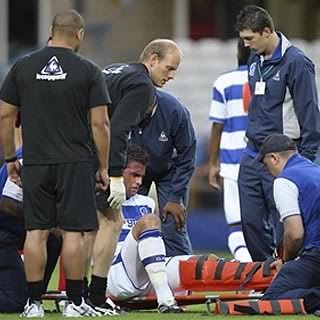 Just myself and Corp turned out for this one, after PK was busy with family duties and DJ choosing to watch on Santana/Sultana/Banana/SE-TAN-TA/Setanta Sports. But it proved a wise decision indeed as Rangers played their best football of the pre season and it was hard to see just which side had spent £22 million in the summer.

In the Fulham line up, was former R's winger, Lee Cook, who in general, got a good reception from the Rangers fans. Sadly, a small minority decided that they would boo his every touch. Rangers started the game the brighter with Bolder and Walton dominating the midfield but yet again, all that was missing was the final ball.

Then on 11 minutes, some shocking defending gave Fulham the lead. David Healy nodded Dempsey's cross back across goal, Stewart froze to let McBride steal in to poke the ball home. But Rangers got the goal they deserved on 58 minutes. Ben Sahar, who has been so impressive througout the pre season, twisted and turned into the box before firing the ball into the top corner.

Following a further chance from Moore, Rangers went deservedly ahead in the 68th minute. Adam Bolder robbed Dioup of the ball, which fell into the path of Sahar who calmly slotted the ball under substitute keeper, Warner. The Fulham support then went surprisingly quiet for the remainder of the game. Half chances for both sides follow but Rangers held on for a much deserved victory.

QPR: Camp, Rehman, Mancienne, Stewart, Barker (Bignot 76), Rowlands (Simmonds 82), Bolder, Walton (Bailey 17), Moore (St Aimie 90), Blackstock (Nygaard 72), Sahar (Nardiello 69). Subs: Cole, Shimmin, Baidoo, Timoska.

Lofty's Man of the Match - a few contenders for this one, with Rowlands and Bolder again impressing in midfield. Stefan Moore had a decent game on the right wing and Chris Barker also had a fine match at left back, supporting Rowlands at every opportunity. But for his performance and this time, his two goal, it goes to - Ben Sahar.

To sum up, this was a very good night for Rangers. The front pairing of Blackstock and Sahar were causing all sorts of problems for Fulham's defence and I will be very surprised if these two didn't start at Ashton Gate next week. Martin Rowlands and Adam Bolder bossed the midfield throughout and Chris Barker was solid defensively and was continually making runs into the attacking third.

Okay, so the defending for the goal was awful and the injury to Walton certainly looks like it will keep him out of action for some time. But there were so many positives to outweigh the negatives... and let's face it, if I was a Fulham fan, I would be extremely worried now about the season ahead.