Summer Breeze...
Harrow Borough 0-3 QPR

Goals from Marc Nygaard, Adam Bolder and Shabazz Baidoo gave Rangers a comfortable victory against Harrow Boro at Earlsmead.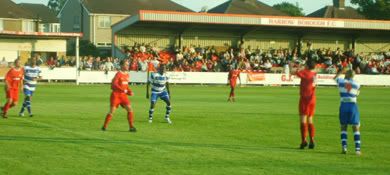 A lovely summer's evening brought out another healthy Rangers following but surprisingly just two from the gang, myself and PK. PK however was rewarded for his loyalty late in the evening and managed to grab an exclusive interview with Rangers season long loanee, Michael Mancienne as he walked to the dressing room following his substitution on 78 minutes.

I will break from the match report now for the interview...

PK - Michael, when are you signing?

Michael Mancienne - Thursday!

We would like to thank Michael for his time in giving us this interview!

Anyway, back to the game and I am sure that most Rangers fans would have enjoyed this one as in truth, it was a bit of a mismatch and Rangers dominated. It was also a great chance to see most of the first team sqaud because every Rangers player that started the game was replaced.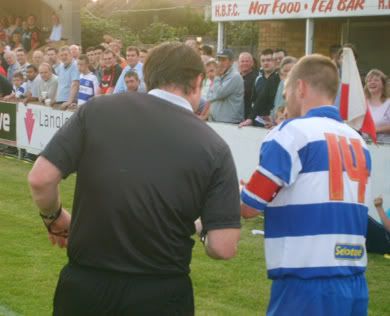 QPR:
Lee Camp (Jake Cole 45), Zesh Rehman (Marcus Bignot 78), Michael Mancienne (Dominic Shimmin 78), Damion Stewart (Chris Barker 68), John Curtis (Sam Timoska 68), Stefan Moore (Kieron St Aimie 55), Simon Walton (Stefan Bailey 71), Martin Rowlands (Adam Bolder 45), James Simmonds (Shabazz Baidoo 60), Marc Nygaard (Dexter Blackstock 62), Ben Sahar (Danny Nardiello 71).

Performances of note again came from Mancienne, Rowlands and Bolder. Sahar's movement and touch was again a joy to watch and trialist James Simmonds looked extremely lively on the left hand side and probably has done enough to get a run out at some point agaisnt Fulham on Friday.