The Late Show...
Bristol City 2-2 QPR

How good it is to be back!? A stoppage time goal from Damion Stewart earned Rangers a point against newly promoted Bristol City. A draw was the very least that the R's deserved in what was a very entertaining start to the new season!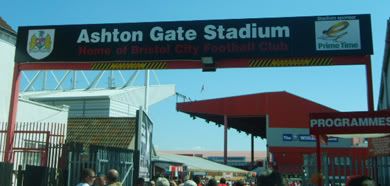 The car was full for the trip as PK, Corp, Phil and myself made the trip to the West Country, made all the more difficult by a balloon festival in Bristol and our pre match was extremely delayed by heavy traffic. So we decided on going straight to the ground to have a pre match beer and arrived to our third disappointment of the day - no beer on sale and no bookies! (a good job in hindsight after reviewing our predictions). The first disappointment was the demise of my ever trusty and many a saviour, sat nav, which fell off the windscreen in the hot weather and smashed onto the gear stick. :-( The second was the non appearance of Ben Sahar, who we later found out had been rushed into hospital Friday night with an appendicitis and will be out for up to 4/5 weeks. Get well soon Ben!!

So equipped with bottles of water, we took our seats and got ready for the season to start. As you would expect from a newly promoted side, Bristol were well fired up and were soon putting the R's under pressure. But Rangers soon settled down and started to look dangerous coming forward. Rowlands free kick was brilliantly saved by Basso, but on 32 minutes, City took the lead - Camp didn't get enough on Johnson's shot and the ball bounced over the line. But the lead was short lived as just two minutes later, Blackstock broke through to poke the ball over the keeper to send the 2,000 travelling fans wild. Just before half time, Rangers had a strong penalty appeal turned down after Carey appealed to handle in the six yard box.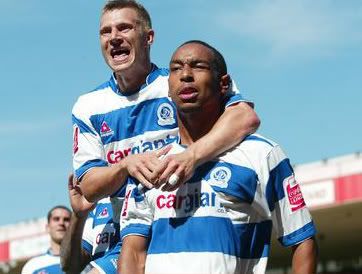 The second half was dominated by the R's and the chances were soon being carved out. Rehman's shot was blocked in the 6 yard box, Rowlands saw a shot hit the post and shortly after, saw his curler come back off the underside of the bar. He later beat three players before being denied the goal his performance deserved by a great save by the substitute keeper.

Just as the game looked set to end at 1-1, Scott Murray unleashed a stunning curler in the 89th minute to give City what they must have thought was an opening day win. But Rangers never say die attitude rose to the surface once more, as Rowlands free kick was nodded back by Nygaard to Stewart, who headed home in stoppage time. However, there was still time for Camp to save Rangers a point, by tipping Elliot's shot round the post.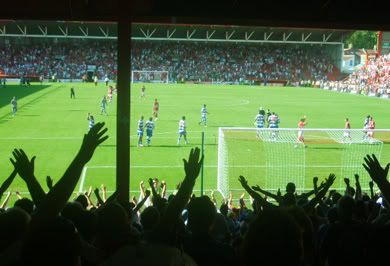 QPR: Camp, Rehman, Stewart, Mancienne, Curtis, Rowlands, Bolder, Bailey, Moore, Blackstock (Nygaard 69), Nardiello (Ephraim 59). Subs: Bignot, Cullip, Cole.

Lofty's Man of the Match - a close call as Michael Mancienne and Damion Stewart were colossal at the back for Rangers. But I am sticking with my original nomination for the oustanding, Martin Rowlands.

To sum up, I couldn't help feeling just a tad disappointed with the result as Rangers second half performance could have seen us winning comfortably. But as previously mentioned, the never say die attitude and comebackability Rangers are now showing under John Gregory, is refreshing to say the least.

So, after a pretty uneventful journey home, helped by some PSP entertainment (thanks Phil), I am home now to settle down, write this report and look forward to Match of the Day which is just starting, and another disappointment - Gary Lineker still presents it!! :-(

IT'S GOOD TO BE BACK!!!