'O' Dear...
QPR 1-2 Leyton Orient

Rangers consistant poor cup form continued tonight as we crashed out of the Carling Cup at the first attempt, to League One side, Leyton Orient and I must add, how they deserved it too!!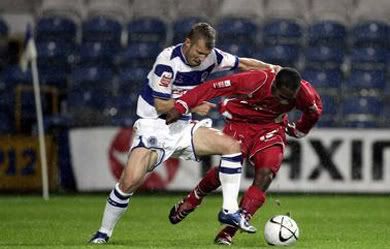 Well, the night started badly enough as the news filtered through, via text, from an excellent and relaible source, that the much publicised Flavio Briatore takeover of the Club, had fallen through. If that wasn't bad enough news, news of further possible reprecustions followed, of which I won't dwell on here for now. On arrival home, the statement on the Official QPR Website confirmed that there indeed is truth in the rumours. The Statement reads;
Antonio Caliendo, Chairman of QPR Holdings Ltd, has made the following announcement:

"There have been many rumours spread in the newspapers recently about QPR.

"The Club is not for sale."

Antonio Caliendo
Chairman, QPR Holdings Ltd

*The Club will be making no further comment at this stage.
Myself and the gang felt so deflated at this point, that I even fancied going on home... and I so wish I had now!

Following the excellent performance on Saturday, the build up was full of talks about Cup runs etc. John Gregory also announced he would be making changes for the game, some enforced. Well, we got the changes...

To be completely fair, Orient were well worthy of their win and goals from Demetriou 54 and the impressive Boyd 63, gave the O's the advantage following nine, mad second half minutes for Rangers. The yet again, outstanding Martin Rowlands reduced the arrears on 68 minutes. But despite a flurry of late corners, in which we saw Lee Camp in the opposition box, Orient held on for a thoroughly deserved win.

QPR: Camp, Bignot (Curtis 81), Cullip, Mancienne, Bolder, Rowlands, Moore (St Aimie 64), Bailey, Rehman (Stewart 81), Ward, Nygaard. Subs: Cole, Timoska.

Lofty's Man of the Match - Martin Rowlands

Not a lot to sum up really. Okay, some may say we can do without the Carling Cup, but it would have been nice to have some sort of cup run!? But with that in mind, I would have dearly hoped we would have drawn a big side, so I wouldn't be forced to sit in South Africa Road again. Someone of 6ft 4 stature has trouble enough getting both cheeks of my backside on the seat and managing to keep my legs in, then to have to sway side to side as the ball travels behind the big pylons that you literally can't avoid anywhere in the stand.

As for the betting feature, shall we give up now lads? ;-)