Problems on the Home Front...
QPR 0-2 Plymouth

Rangers fell to their fourth consecutive home defeat, their third in the league in what was a relatively comfortable evenings work for former boss, Ian Holloway and his Plymouth side.

The fact that I am sitting here writing this report at 1.30am, is indication enough that I am struggling to do so. The team selection this evening was baffling enough, what with just one change from Saturdays side, Nardiello for Sahar. I am not one for getting on players backs, but could someone please tell me what Stefan Moore did at the Walkers Stadium to warrant his place tonight?!? - the same could be said of Zesh Rehman.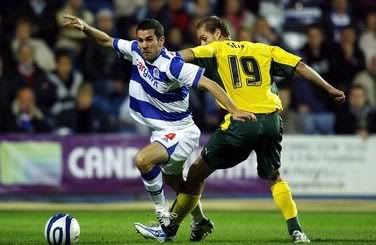 What was also baffling was tonights match programme, with comments reading the following;

"It's time we made Loftus road a fortress again" - Adam Bolder.

"It's a brilliant all-round squad" - Danny Nardiello.

"Midweek matches under the floodlights at Loftus Road are always very special". - John Gregory

Perhaps tonight, if we had started the game with the team that finished it, this may have been a completely different report I would be writing now. Nardiello hit the bar with a header in the first half, and Rowlands free kick also found the woodwork. But to be honest, there was little else to enthuse about. After Halmosi made Rehman look as ordinary as he is and fired his shot into the corner on 49 minutes, you could see the Rangers heads dropping from a mile away - and on 62 minutes, it was all over as a contest as Norris fired home from close range. I am never one for excuses, but it has to be said that Rangers inept performace was accompanied by probably the worst set of officials I have seen in some time. Also, it has to be mentioned that Barry Hayles gets more annoying and more irritating with every time I see him play.

QPR: Camp, Barker, Cullip, Stewart, Bolder, Nardiello (Sahar 81), Blackstock, Rowlands, Moore (Ephraim 58), Rehman (Bignot 58), Leigertwood. Subs: Cole, Curtis.

Lofty's Man of the Match - N/A
Many are now saying that John Gregory is now skating on very thin ice. I for one, am a fan of JG's and would like to think that after saving us last season, he deserves a chance. But the team look out of sorts, short of confidence and showing no signs of improvement as the weeks are going by. Also, the midfield, with players playing out of position are looking lightweight and lacking in creativity and are consistantly being overun and let's face it, the abysmal form of Sheffield Wednesday is the only reason that we are not bottom of the table. As I close this evening, the only advice I would offer in light of Saturday's game, is that Hogan Ephraim must start against Watford.