A Point Won, or...?
Scunthorpe 2-2 QPR

Two wonder strikes from Akos Buzsaky, proved not to be enough as Scunthorpe twice came from behind to earn a point, but it truth, should maybe have had all three at a cold, wet and windy Glanford Park.

Myself and PK made the long journey north and were both looking forward to it, seeing as it was a new ground for us as it was for no doubt, the majority of the away end. But on the other hand we were also dreading it, as with Scunthorpe not having won in 8 games, it had a defeat written all over it - in fact, myself and PK had predicted 2-0 and 3-1 defeats respectively and Joe, a 1-0 defeat.

But after a relatively trouble free journey and a visit to the excellent Old Farmhouse pub, we moved onto our first look at the ground, which was small, neat and compact and should have made for a good atmosphere, although the home fans were pretty quiet throughout. The Rangers fans seemed in good spirits and there was also a return of the inflattables - including a banana, a blow up doll and surprisingly, a huge, lets just say man's private part, of which led to the quote of the season so far from Vickie, but more on that later...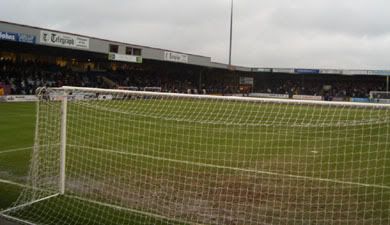 Onto the game and after some good work from both sides, Rangers took the lead with stunning strike through Akos Buzsaky - who fired home from 25 yards after a flick on from Rowan Vine. The home side were level 12 minutes later when yet again, the R's defence stood still at a corner as Patterson nipped in front of Barker to poke the ball home unchallenged. It was nearly 2-1 on 35 minutes as Hurst, all to easily moved into the box and smashed a low shot against the post.

Rangers then went back in front on 42 minutes and if you thought Buzsaky's first goal was good, then you should have seen this one! - Following a foul on Sinclair, a free kick was given , which looked from where we were sitting, that it was near the corner flag. Buzsaky stepped up and curled a sublime effort into the top corner.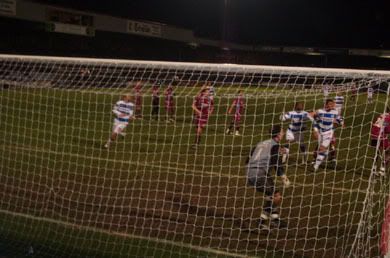 With the wind at their back, Scunthorpe started the second half much the better and Camp again had to be at his best just seconds after the restart. But on 52 minutes,the lead was cancelled as a wind assisted cross, came back off the crossbar and fell to Forte who made no mistake. Despite Adam Bolder falling just short of sliding in for Sinclairs cross and Buzsaky shooting over late on, it was pretty much Scunthorpe's half in what was overall, a half decent match in dire conditions.

QPR: Camp, Barker, Stewart, Bolder, Buzsaky (Ainsworth 92), Rowlands, Malcolm, Vine, Rehman (Timoska 74), Leigertwood, Sinclair (Nygaard 76). Subs: Cole, Balanta.

Lofty's Man of the Match - some improved performaces all over the pitch, notably from Vine and Bolder, but with a performance capped by two stunning goals, there could only be one winner today - Akos Buzsaky!

Well, to sum up, I suppose with us all predicting a defeat, we have to be pleased to get a point today and above all, I think the majority were. But it is becoming more and more frustrating, that we are continuing to try and defend what we have? Is this an Italian thing? We looked okay going forward and scored 2 good goals and with Scunny not winning in 8, it was a great time to play them. But with that back four, we were always going to concede and the first goal especially was so disappointing. So much so that I may have gained an appearance on the Championship this week as I lept up to express my disgust/disappointment at the motionless defence, notably, Chris Barker.

As for the quote of the season so far, whilst we were all keeping a close eye on the various inflattables being thrown around the away end, Vickie announcing her concern that a

'huge penis may come on her head'

was priceless!!