The Mothers Day Massacre...
QPR 3-0 Stoke City

Goals from Mikele Leigertwood(2) and Akos Buzsaky gave Rangers a convincing and thoroughly deserved win over second placed Stoke, in front of the Sky Sports cameras at Loftus Road.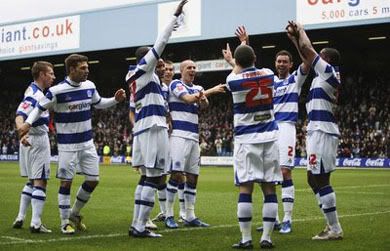 Due to Sky moving this for live TV coverage, I'm sure many a households Mothers Day celebrations were re arranged. But Rangers happily put on a decent performance for the watching audience and was one of the best performances of the season so far.

Well, with the game being televised, I've no doubt that most reading this will have seen the game and indeed, I am currently watching a recording as I am writing. So, I have relived Leigertwood's two stunning goals and the two major decisions that went our way. Namely, the sending off of Griffin for Stoke just before half time. Okay, so we were 2-0 up at this point and from where I was sitting, it looked a hell of a bad tackle. But the TV proved that not only did Griffin win the ball, it wasn't even a foul. Very harsh indeed...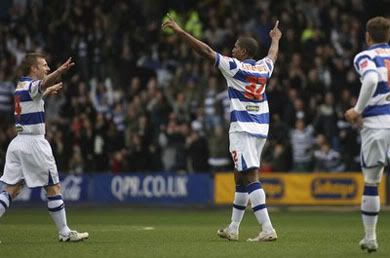 As mentioned, Leigertwood's strikes, his first especially were of stunning quality. His first was a stunning 25 yard strike into the bottom left hand corner and his second was a thumping drive from close range following an excellent nod back from the excellent, Rowan Vine.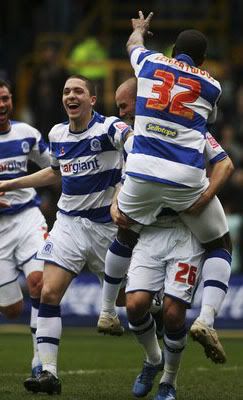 On 56 minutes, it was all over as Rangers broke from the back with Vine, who played the ball to Ephraim who in turn played in Agyemang(who the TV showed to be in an offide position), who fed Buzsaky who drove the ball low into the net.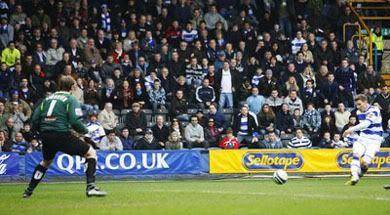 The game then ticked on with various more chances for the R's as well as a more than decent penalty shout following Hogan Ephraim being clearly pushed in the box. Lee Camp was forced into a fine double save late on, but other than that, Stoke threatened little as Rangers cruised to a superb three points.

QPR: Camp, Delaney, Mancienne, Buzsaky, Rowlands (Ainsworth 81), Connolly, Agyemang, Ephraim, Vine (Blackstock 75), Hall (Stewart 78), Leigertwood. Subs: Pickens, Lee.

Lofty's Man of the Match - Mikele Leigertwood - two stunning goals cliched it for the R's midfielder in a game where QPR to a man, all had fine games.

In summary, there isn't much more to add than what a superb, footballing performance this was for the R's, it was a joy to watch at times. Okay, so Stoke fans may argue about the sending off etc, but as mentioned, Rangers were already 2 up at the time and nothing would have stopped Rangers today. A fine Sunday afternoon indeed...