One of Those Days...
Coventry 1-0 QPR

QPR's impressive start to the season suffered a set back with defeat at the Ricoh Arena. A first half penalty by Elliot Ward was enough to seperate the sides in a game that in truth, Rangers shouldn't have lost.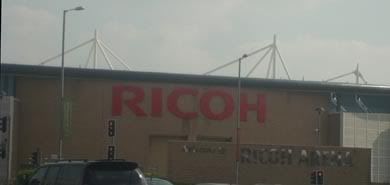 The writing was on the wall as soon as midday really... myself and PK set off in good time and the ever trusty sat nav estimated a 12.40 arrival, plenty of time for a pub lunch and a couple of beers before the game. However, horrendous traffic on the M1 meant that we didnt arrive until 1.30 - and after the sat nav directed us to the wrong pub all together, we gave up and went to the ground - we just didn't fancy a pre match of morris dancing...

After meeting with the Henley mob, we took a mountaineering expedition to our seats at the top of the away end and the Ricoh was it's same, lifeless self. The picture below is yet more evidence against Rangers moving to a new, bigger stadium at present - the attendance was a reasonable, 16,718.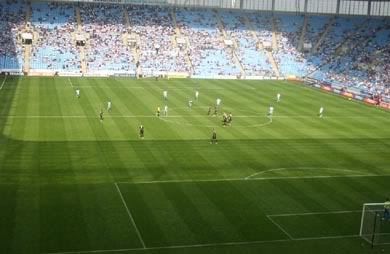 Onto the game and Rangers were pretty slow out of the starting blocks and Mikele Leigertwood's foul Jay Tabb gave the home side the chance from the penalty spot. It looked a bit if a dubious one with Tabb going nowhere, but there were little complaints from the R's defenders. Elliot Ward put the Sky Blues in front despite Cerny getting a good hand on the spot kick, it couldn't quite keep the ball from crossing the line.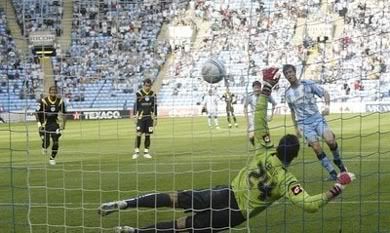 Emmanuel Ledesma had Rangers best chance late in the first half, but fired straight at the keeper when one on one. Onto the second half and I don't think we will see Rangers dominate a game as much this season, but without any real end product. Lee Cook, Parejo, Stewart all saw good chances go begging, but the in form Dexter Blackstock missed a golden chance on 75 minutes scooping the ball over from close range following a great cross from Delaney.

QPR: Cerny, Delaney, Stewart, Mahon, Liegertwood, Blackstock (Agyemang 76), Gorkss, Rowlands, Ramage (Parejo 56), Cook, Ledesma (Buzsaky 53).Subs: Camp, Hall.

Lofty's Man of the Match - Martin Rowlands

In summary, I would put this down to just one of those days where we just didn't get the rub of the green. You couldn't really knock the performance in my opinion, except that we lacked that killer instinct in front of goal and didn't score. We simply dominated proceedings, especially in the second half and didn't deserve to come away with nothing. Myself and PK had a brief but interesting chat with a 'gutted' Gianni Paladini after the game of which I must show respect to our opposition today and not repeat...