A Fitting Tribute...
QPR 2-0 Doncaster

QPR did the memory of Ray Jones proud with a comfortable 2-0 win over newly promoted Doncaster Rovers. Dexter Blackstock and Emmanuel Ledesma were the scorers in the game that marked the year anniversary of the death of striker Jones who was tragically killed in a car accident.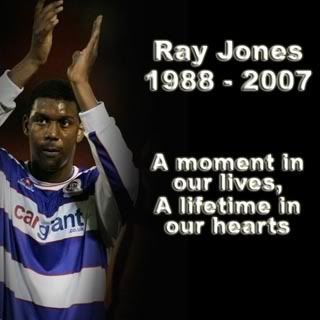 Before I continue, I must just say a big GET WELL SOON!!! to Corp, who suffered a nasty neck injury whilst on holiday and couldn't be at the game today - can't wait to see you back mate! His and indeed, PK's nephew Craig took his place today, but I won't mention who he actually supports at this time...

Anyway, onto the game which was a complete carbon copy of last weeks showing at Sheffied United as QPR turned in their best performance of the season so far. The visit to Bramall Lane will soon become just a distant memory, I'm sure. Rangers were ahead on just 5 minutes - Daniel Parejo floated over a free-kick that was stroked home by Dexter Blackstock who raised his black armband and kissed it, dedicating his goal to his close friend Ray - a very moving moment I must say!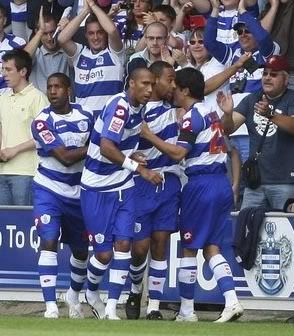 Parejo and Ledesma were bossing the midfield as Rangers continued to create chances. Parejo really should have had his first goal for the R's but headed narrowly over from close range. But the second goal wasn't long in coming and on 28 minutes - Stewart found Ledesma in acres of space and the Argentinian midfielder cooly slotted home his first goal for Rangers.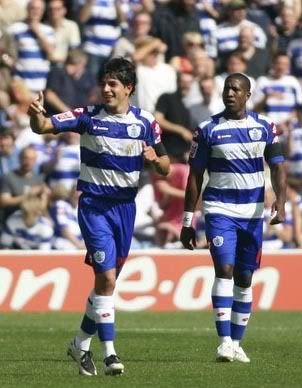 Further chances fell to Stewart and Ledesma and despite some neat and tidy football form Doncaster, they never really threatened in the final third and that continued in the second half. Rangers were extremely comfortable against a Doncaster side who had come to Loftus Road in good form and although the second half wasn't as upbeat as the first, Rangers saw the game out well and could have extended the lead through substitute Balanta.

QPR: Cerny, Delaney, Stewart, Mahon, Hall (Connolly 29), Leigertwood, Parejo (Rowlands 77), Blackstock, Ramage, Cook (Balanta 71), Ledesma. Subs: Camp, Di Carmine

Lofty's Man of the Match - I have struggled with this one with many good performances throughout. Gavin Mahon was oustanding on his return to the team and Daniel Parejo had a fine match in the heart of the Rangers midfield. Matt Connolly slotted in for the injured Fitz Hall and looked more than at home as centre back. But I just can't call a final result between the two so the award this week goes to both Emmanuel Ledesma and Dexter Blackstock.

As mentioned, with this performance, Sheffield United is becoming a distant memory and this was the R's best performance of the season so far and a fitting tribute to the memory of Ray Jones.

It was also great to see the return of Captain, Martin Rowlands who replaced Parejo in the second half. With Buzsaky and Vine still to return, Iain Dowie will find himself with a huge headache before long. A nice problem to have though as I'm sure he will agree...