QPR in Cup Win Shock...
Swindon 2-3 QPR

QPR secured a shock 3-2 cup win against Swindon Town in the first round of the Carling Cup on last night.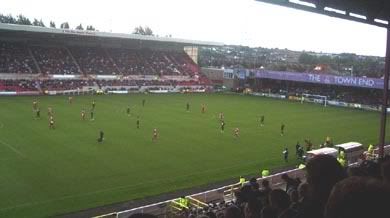 With Corp still on foreign soil and PK stuck at work, PK's bro, Steve joined myself for what should have been a relatively straight forward midweek journey to the County Ground. Which it was, until junction 13 of the M4 and the delays meant we missed the first 20 minutes of the game.

Walking to the ground, there were plenty of oooo's and aaar's coming from the home end, leading us to think we could be in for a tough night. Thankfully, we arrived in plenty of time to see Angelo Balanta give the R's the lead from close range on 33 minutes. But sadly, by the time I had written the texts to the gang not in attendance, I was quickly editing it to say that Swindon had levelled through Cox.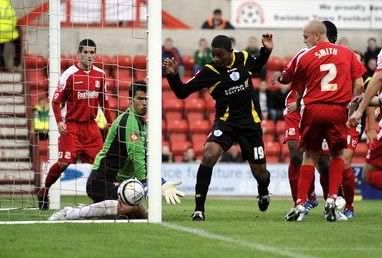 And, if the Swindon PA announcer wasn's annoying enough after the goal, he was even more so after 'Billlllyyyyyyyyyyyyyyyyyyyy Payyyyyyyyyyyyynteeeeeeeeeeeeeeeeeeer' gave the home side the lead on 42 minutes and many R's fans were scratching their heads in wonder of just HOW, we were losing this match.

Well, myself and Steve thought we had done so well, getting to the ground when we did and NOT missing any goals. So at the very least, we thoroughly deserved a half time beer!! So that was eagerly consumed and enjoyed and a quick visit to the gents before the second half, then - 'YEEEEEEEEEEEEEEEEEEEEEEEEEEEEEEEEEEEEES' is what is heard from above. We arrived back to our seats to find lots of smiling faces and Rangers level through Dexter Blackstock. After watching the Carling Cup highlights on ITV1, we saw it was hardly the 'goal of the season' contender that many had teased us with, but a fine goal all the same as the Cook/Blackstock partnership was back in force.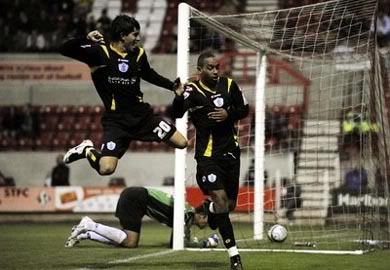 Nine minutes later and Rangers were ahead and yes, we saw this one!! Captain for the night, Damien Delaney fired home from ten yards with a cool finish after Ledesma's corner was only half cleared.

Despite plenty of pressure for the home side, Rangers looked the bigger threat coming forward and even after 5 minutes of time added on, the dreaded extra time didn't come and Rangers held on to amazingly, win a Cup game!!!

QPR: Camp, Delaney, Stewart, Leigertwood, Parejo, Blackstock (Di Carmine 69), Gorkss, Connolly, Cook, Balanta, Ledesma (Alberti 78). Subs: Cerny, Agyemang, Bolder, Ramage, Ainsworth.

Lofty's Man of the Match - a few contenders for this one with fine performances from Parejo and again, Ledesma. But last night's award goes to returning defender, Matt Connolly who did the work of two defenders last night following a poor performance from Damion Stewart.

So, after an easy enough journey home, I now sit here writing this, knowing I will be back on here later to report details of the 2nd Round draw, what a good feeling that is!!!