QPR Beaten in Final Friendly...
QPR 1-2 AC Chievo Verona

QPR ended their pre season campaign with their 3rd succesive defeat against Serie A new boys, Chievo Verona, in what was largely a disappointing match at Loftus Road.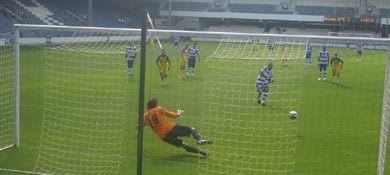 Although the prices for this friendly were not exactly over generous, myself and the gang were keen to get back to Loftus Road. If only, to see the many changes that we have heard so much about during the Summer. Overall, I have pretty much calmed down now about the season ticket price hike etc and cannot wait until next Saturday, where it all starts again against Barnsley at home. But, as mentioned, throughout the close season, fans have heard allsorts from the Club about improving the match day experience and many changes/improvements made at Loftus Road for us all to look forward too...
Well, on arrival, the first port of call was the Club Shop, or 'Superstore' as it's now called. It's basically, had a refit. It's the same shop, the layout is a bit better and now they have much welcomed air conditioning. It was also evident around the Stadium, that whoever has supplied QPR with blue and silver paint, has made a right killing!!
So far, so reasonably good, but we were then eager to enter the Stadium and see our now 'Gold' seats in the Upper Loft. Apart from more splashes of silver paint, nothing much has changed. The Stadium as a whole, looked good with a new coat of paint and a big screen has been put up on top of the away end. Now, it was only a matter of time before we got one of these as our old scoreboard is not only a bit dated, but is really on it's last legs. The thing is, where our seats are, at the back of the stand, means that the long wait and excitement means nothing at all as that we will be able to see absolutely nothing of the new addition.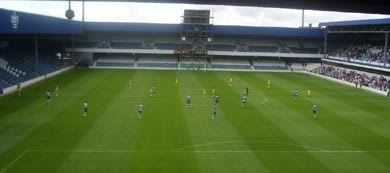 Anyway, moan over and onto the game, which as a whole was a typical friendly and a bit of a disappointment. However, Chievo looked very good and passed the ball around very nicely and the R's, playing a weird looking system with a lone striker, struggled to keep up with them. However, Rangers were denied a lead midway through the half when referee Howard Webb, ruled out Damien Delaney's header for a foul by Fitz Hall. Cheivo then went down the other end and scored through Bogdani following some neat passing.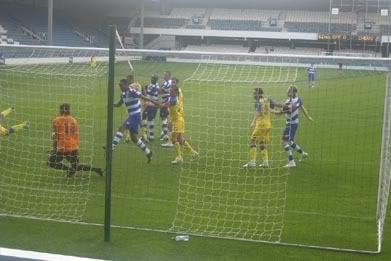 Onto the second half and just as Iain Dowie changed Rangers back to a more conventionall 4-4-2 system, Chievo doubled their lead through Bentivoglion who fired home from the edge of the box as Rangers were caught napping by a reasonably simple, set piece. With 20 minutes to go, Rangers got back into the game. Alberti was bundled over in the box and the referee, quite generously I must say, pointed to the spot. Following a tangle with Ledesma to get the chance to take the kick, Dexter Blackstock sent the keeper the wrong way - at the second time of asking as Howard Webb had ordered a retake after the first penalty was saved.

QPR: Cerny (Camp 85), Ramage, Delaney, Mahon (Bolder 76), Hall, Gorkss (Stewart 77), Agyemang, Leigertwood (Ainsworth 77), Blackstock (Di Carmine 73), Balanta (Alberti 59), Ledesma (Rose 83).

Despite the defeat, there were plenty of positives to take from the performance. Kaspers Gorkks had a decent game and certainly looks a good signing for us and when Connolly is fit, a back four of Delaney, Gorkks, Hall and Connolly looks a good choice. Good performances again came from Ledesma and sunstitute, Alberti. There was also a fair slice of negatives too, but with the season just one week away and reports of big news coming from Loftus Road this coming Monday, I won't dwell on that for now...

See you next week!!