QPR Project Well and Truly Stung by Hornets...
Watford 3-0 QPR 'Project'

I am ashamed to say, that Watford easily brushed aside a disjointed and disinterested QPR at Vicarage Road in Paulo Sousa's first game in charge.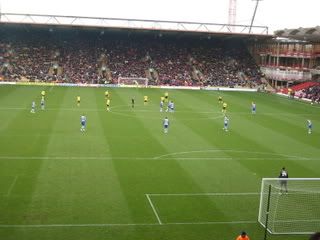 What with the developments at Loftus Road this week, the mood was extremely upbeat and the much mentioned, new manager syndrome, would surely come into effect with the players going all out to impress their new boss. Sadly, someone forgot to tell QPR this and after the much publicised Paulo Sousa interviews this week, where he has been demanding hard work, ambition and loyalty, else they have no part in this 'project' - there must be a good few QPR players who will be fearing for their jobs after this performance.

After reading the various reports since I have been home, the Official QPR site have obviously tried to sugar coat this defeat a bit by stating that Sousa watched from the stands today and left managerial duties to Gareth Ainsworth, seeing as though he has only been here for 2 days. What it doesn't do is make this any better as today's performance was totally unnacceptable and our worst of the season by a long way.

Tommy Smith set the home side on their way from the penalty spot in the 26th minute after he was adjudged to have been barged in the back by Mikele Liegertwood. It looked a soft penalty, it was a soft penalty and extremely harsh of the referee to award. In fairness, the Watford players didn't appeal for it and everyone in the stadium seemed genuinely stunned when it was awarded.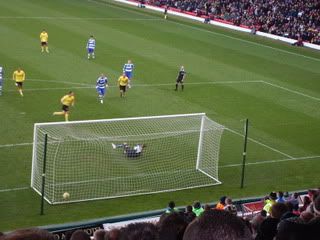 If that wasn't bad enough, the Rangers backline were at fault for Watford's second eight minutes later. Lee Williamson's fine 25-yard free-kick rebounded off the post, but their failure to react to the loose ball allowed Jon Harley to cross the ball back in for Darren Ward to score. On the stroke of half time, the game was over, as Smith robbed Leigertwood in the left back area and pulled the ball back for Williamson to fire a shot that creot under Radek Cerny.

At this point, I nearly went home and I certainly would not have been alone as many disgusted R's fans made for the exit. But I was talked into staying by PK and also, the hope that Rangers would come out and give it a real go as there was nothing to lose. This would be the case, surely...

It didn't happen and I have to be honest, if I were a Watford fan, I would be very disappointed that my team didn't get 5 or 6 today. To make matters worse, Fitz Hall was given a straight red card with 10 minutes to go. I am afraid I cannot offer any comment regarding this as I had long left the stadium by this time. I cannot remember the last time I had left before the end of a QPR game and also, when I had readily joined in with a chorus of 'what a load of rubbish', but that I did and I don't regret doing so.

QPR: Cerny, Delaney, Stewart, Mahon (Tommasi 46), Hall, Leigertwood, Blackstock (Di Carmine 63), Agyemang, Ramage, Ledesma (Parejo 53), Ephraim. Subs: Cole, Gorkss.

Lofty's Man of the Match - you are seriously, having a laugh!! N/A

I must admit, that when I first heard this midweek, it went over my head somewhat. But to continually hear Queens Park Rangers referred to as a 'project' rather than a Football Club by the owners and now, the Management, is great cause for concern - as was vented loudly by the R's following at Vicarage Road today. But what concerns me more, is that this performance 'could' be the players protesting at an absolute joke that Flavio Briatore is turning our Club into...

That folks, is all for now...