R's On The Road... to Burnley
by Lee Brown

A whole month has passed us by without an away fixture to look forward to, and now we have two to look forward to in consecutive weekends - we start with this weekends trip to high flying Burnley.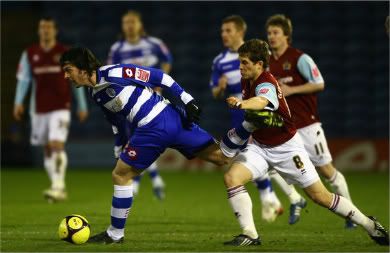 The Stadium
Current Capacity - 22,546
Burnley have had Turf Moor as their home since 1883, which is the longest continual occupation in a ground by any club in the entire Football League. It is very much a ground in development, with two sides redeveloped in the 1990's and two older stands. These two stands have been given the go ahead to be renovated, with the planned completion to be before the start of the 2010/2011 season.
Away fans are housed in the David Fishwick Stand, which holds 4,125. The stand itself is very dated indeed! There are no plastic seats which are traditional to the average football groud now. In their place is the old fashioned wooden seats from the 1960's, some of which are missing in action. There are two supporting pillars which can restrict viewing slightly but overall its not too bad, there are much worse out there.
The History Between the Teams(at Turf Moor)
Burnley 12
Queens Park Rangers 2
Draws 2
This is an away trip that Rangers fans never look forward to. Our record at Turf Moor is so poor that you could effectively surrender the 3 points even before you leave your front door.
Rangers 1st ever win at Turf Moor came on 8th March 1980. It was the 8th attempt of gaining victory and ran out comfortable 3-0 winners in the Division 2 fixture.
We then had to wait another 27 years to taste victory again. This time in came in the rearranged fixture, due to the untimely death of Ray Jones, on a cold Tuesday December night. In a very tight contest Rangers managed to overcome the Clarets. An early 2nd half header by Damion Stewart and a fine run of over half the length of the pitch and walking the ball into an empty net by Rowan Vine right at the end proved to be enough to survive the late Burnley onslaught.
How to get There
By Car:-
If using a sat nav then the only info you will need is the post code, which is BB10 4BX (PK will be happy now)
For those of you that dont have a sat nav then i would suggest the following.
Leave the M6 at junction 29 and merge onto the M65. Leave the M65 at junction 10, follow signs for Towneley Hall. This will lead you, eventually, to the ground.
By Train:-
There are two train stations in Burnley, Burnley Central and Burnley Manchester Road. From Burnley, Manchester Road you will endure a 15minute walk. From the station head down Centenary Way. Walk down the dual carriageway which leads downhill towards the ground which you should see in the distance. U will then hit a roundabout, take a right which will take you underneath the canal bridge. Carry straight on and you will reach your destination.
From From Burnley Central you will have a slightly longer walk of around 20mins.
As you walk out of the station head for the retail park in front of you. This will lead you onto the inner ring road, take a left and walk for around 300yards and you will reach a set of traffic lights. Take a right turn and keep walking until you reach a big roundabout. At this point take a left and this will lead you under canal bridge and keep heading straight ahead until you reach Turf Moor.
Pubs 'n' Grub
If you are wishing to visit a public house before the game then I would point you in the direction of the Queen Victoria (Brewers Fayre Establishment) or where Lofty always recommends, the Cricket Club. At the Cricket Club you can park your car up for a mere £3-5 and enjoy the luxury of not having to walk far and enjoy your chosen refreshments.
In terms of food, there are an array of chippys around the town for you to indulge in your favourite greasy meal. Unfortunately, I havent been able to get hold of any in ground food prices or what they sell so I cannot give you an insight of what you can enjoy there.

Game Preview
The month of March was a very good one for the Clarets, winning 4 and drawing 1 of their 5 games and scoring 13 goals in the process. With this run followed a 1-1 draw against Derby, in which Derby scored a 93rd minute equalizer, and has boosted Burnley up into 6th place and hold a 4 point cushion over their closest play off contenders Preston in 7th. Robbie Blake has been chosen as the dangerman to watch out for. The veteran seems to get better with age and is pivotal in a lot of Burnley's good work.
Rangers have again been inconsistant over the last month, but the last 3 games has shown encouraging signs of progress with 2 wins and a draw. The Rangers backline has remained water tight and has a record of being one of the best in the league. However the worry is the lack of firepower up front, now top scorer Dexter Blackstock has been loaned out to Notts Forest, you have to wonder where the goals will come from especially with the most threatening goalscoring midfielders out injured. With Rowan Vine still not match fit this could be a struggle for the R's, but we all know that we should expect the unexpected from an unpredictable Rangers side.
My bet of the day would be for QPR to be involved in their 10th 0-0 league draw of the season.