Lee's Latest - Oxford Friendly Report...
Oxford United 2-2 QPR

Thank you once again to, Lee Brown, who bring's you a report from last night's friendly draw away at Oxford.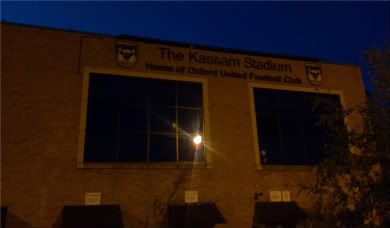 In Rangers 5th pre-season friendly in the build up to the new Championship season it was Oxford United that played hosts at the Kassam Stadium.

Nearly 900 travelling fans made the trip to Oxfordshire as Jim Magilton named a strong squad filled full of first team squad members as well as 2 trialists, Andy Marshall and Alessandro Pellicori.

Team in a 4-4-2 formation, from right to left :- Cerny; Ramage, Hall Gorkss, Connolly; Routledge, Rowlands, Mahon, Balanta; Agyemang, Vine. Subs- Marshall, Ainsworth, Borrowdale, Alberti, Stewart, Pellicori, Taarabt

It was Rangers that started the game the brighter of the two teams. Angelo Balanta was causing problems down the left hand side and when he played a neat one-two with Vine in the opening minutes he was unfortunate that Vine's return pass was too heavy for him. Minutes later it was Vine who went close after some good build up play down the left hand side. The good start and good passing football found the breakthrough Rangers play deserved on 8 minutes. After a patient build up in defence through the midfield it was Angelo Balanta that found himself out on the left hand side. He picked out Agyemang in the centre who laid off a perfectly weighted ball to the advancing Gavin Mahon, who neatly slotted home a curling effort from 12yards out.

Rangers were playing a patient passing game and certainly looked the more offensive of the two teams but were finding it hard to break down the Oxford defence and midfield were content to sit with 10men behind the ball as frustrate their opponents. With this Rangers looked to use the counter attack and use the pace that we possess in Routledge and if it wasn't for an extremely tight offside decision then Routledge would've been clean through to test the Oxford keeper once again. Following 25-30minutes of dominance Oxford finally showed some attacking prowess and tested the Rangers defence for the first time but the resulting effort was easily dealt with by Cerny.

The Rangers defence were spectators for a large period of the half but it was the consistent Connolly who stood out as he was always looking to provide the tricky Balanta opportunities to frighten the Oxford defence with his skills. Gorkks was as reliable as ever, Ramage kept things simple as he always does but Hall looked to me as the weaker link in the back line, seeming to look for the long ball rather than play the patient passing game that we are trying to play and also giving away silly fouls by unnecessarily holding and climbing over the Oxford strikers. Balanta again troubled the Oxford defence before unbelievably trying a 30 yard effort which wasn't too far off the mark.

As the half drew to a close Rangers had one more effort at the hosts goal. Balanta, again, showed good work down the left side played a neat pass into Agyemang who played in Routledge with a delightful pass and setting him clear. Routledge's effort from 15yards out seemed to be heading for the right hand corner before the keeper got a finger tip to it and sent it out for a corner.

A pretty good half from Rangers, was very comfortable and if we wanted to we could've gone up another gear or two in my opinion. The 900 in attendance were very lively, considering it was only a friendly we made a hell of a lot noise, especially good as we were just under a third of the total crowd of 3250 ish in attendance.

At the start of the second half Magilton made 3 changes. Ramage, Rowlands and Agyemang made way for Borrowdale, Alberti and inspirational new signing Taarabt. Connolly moved over to right back to accommodate Borrow dale's arrival, Alberti slotted into the centre of midfield whilst Taarabt moved up front.

Rangers started as they left off and continued to cause problems. This time Vine down the right hand side advanced with the ball before picking out Taarabt, his tame effort was easily dealt with by the Oxford keeper.

Then disaster struck. Oxford quickly counter attacked down the left hand side and it was Constable that had time to line up an effort from just outside the box, his effort was, from where I was sitting, very harshly adjudged to hit the hand of Gorkks inside the area. Penalty! Matt Green scored the spot kick, sending Cerny the wrong way, and celebrated like he had just scored the winning goal in a league match. Looked stupid as to be fair it is only a friendly, but it did start the banter between both sets of fans and it did liven up proceedings.

The goal seemed to buoy Oxford and started to come into the game a lot more. Our centre midfield started to get opened up a lot easier after Rowlands departed and we looked vulnerable down the left hand side.

However on 62 minutes normal service resumed and Rangers regained the lead. Taarabt was the creator of this goal, he picked up the ball just inside the Rangers half and looked around to see any runs being made by the forwards. However it was Routledge that timed his run to perfection as Taarabt picked him out. Routledge ran into the area, rounded the keeper and even though it looked like he tried his best to muck it all up he slotted home from a tight angle. It was then that the Rangers fans, who hadn't forgot the Oxford chants when they scored, started singing "You're not singing anymore....." It definitely looks as if the Rangers fans are ready for the new season already.

Unfazed by going behind, Oxford continued to try and play the good football that was causing us problems before our second goal. Pellicori and Stewart entered the game on 66 minutes for Balanta and Hall.

Three minutes later Oxford were back in the game. Alberti was trapped in the left corner in the Rangers defence and had no help from left back Borrowdale which allowed the pressuring Oxford forwards to nick the ball off Alberti and put a cross in the middle. The cross looked an easy one to dealt with and Connolly attempted to chest the ball back to Cerny when it looked easier to clear down the left hand side, but the chest back was on the weak side which allowed the Oxford substitute Midson to poke the ball past Cerny into the empty net. A rare mistake by the reliable Rangers defender.
A few minutes later Ainsworth came on for Vine, to the delight of the Rangers faithful. Within minutes of being on the pitch it was Ainsworth who was the provider for our next attempt at goal. He took on the left back in true Ainsworth styli and put in a ball to the back post, Pellicori slid in and attempting to poke the ball home from a tight angle he saw his effort come off the inside off the post and somehow roll away from goal before being cleared to safety. Very unlucky.

It was Pellicori again who went close in Rangers next attack. It looked to me as if it was Borrowdales cross from the left which found Pellicori 12yards out and with him jumping backwards and having to generate his own power in the header, saw his effort go agonisingly past the right hand post. The game was there for both teams to win and both went in search for the winner but it wasn't to be and both teams had to settle for the draw.

In summary, for periods of the game we did look to pass the ball around a lot and when we upped the tempo going forwards we did look very dangerous. We did look comfortable and definitely seemed to hold back a bit, we're holding back a gear or two and hopefully in the next week where we have our last three friendlies at Wycombe, Kettering and Southampton we will crank up the intensity so we are ready for Blackpool on the 8th August.

We have also highlighted the need for a new left back......... please let it happen in the next week otherwise Mr Connolly will be required out there.

Individual round up...
Cerny-
Virtual spectator for large periods. Is our number 1 keeper so he has no fears.
Ramage-
Kept it simple, will be nice to see him complete 90minutes in one of the next friendlies.
Hall-
Done ok. Needs to learn not to look for the long hoof when under pressure. Also needs to stop giving away silly fouls.

Gorkss-
Comfortable. Took a blow to the head late in the first half but soldiered on. Definate starter for 8th August.
Connolly-
Was comfortable at both right and left back. Would prefer him in centre defence with Gorkks though.
Routledge-
Caused all sorts of problems with his pace tonight, would be nice to see him carry on this work ethic.

Rowlands-
Another useful 45mins for the returning midfielder. Will only get sharper the more he plays.

Mahon-
Had a good game, a typical performance from the goal machine.

Balanta-
Exceptional in the first half and caused a hell of a lot of problems. Is knocking on the door for a first team place after his pre season efforts.

Vine-
Not an out and out striker but has a very good understanding with Agyemang. Looks sharper and has put in a lot of effort in.

Agyemang-
Set up Mahon's goal. Wasn't his worst game but he has had better.

Ainsworth-
Typical effort from the wild thing. Played with passion, ran at defenders and provided a few decent crosses. Seems to have an understanding with Pellicori.

Borrowdale-
After this I'm still not a fan. Doesn't look good enough for this team and we need a left back. Provided a good cross for Pellicori but otherwise looked troubled.

Alberti-
I've said it before and I'll say it again, he's not a centre midfielder. Midfield looked weaker when he came on, he needs to play on the wing.

Stewart-
Done nothing wrong, won headers and looked largely untroubled.

Pellicori-
Really like the look of this guy, will win headers and look to hold the ball up. Put in a good shift and was chasing balls down. Unlucky with his two efforts, if we sign him I'd be happy. The man will score goals.

Taarabt-
Played well, holds the ball too long at times but is a joy to watch. What makes it better is that he hasn't trained with the guys under Magilton's leadership. Will need to improve his striking of the ball as he had two or three efforts which looked like they were passed back to their keeper.